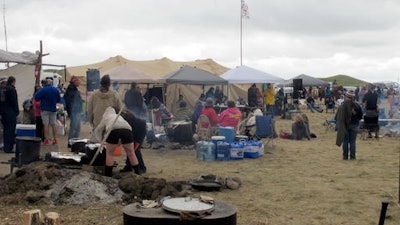 AP Photo/James MacPherson
DES MOINES, Iowa (AP) — The Iowa Utilities Board denied Thursday a request by a group of landowners to halt construction of an oil pipeline beyond this week.
The three-member board voted in a brief afternoon meeting against a lengthy stay of construction of the Dakota Access pipeline on parcels of 14 landowners while a court considers a lawsuit they've filed. The suit challenges the board's authority to allow eminent domain for a privately owned pipeline project.
The board concluded landowners have little likelihood of success in their court case and that Dakota Access would be financially harmed by construction delays, Chairwoman Geri Huser said.
Also Thursday, construction on the pipeline at a site in southern North Dakota near the Standing Rock Sioux's reservation had not yet resumed. About 300 people are still camped out in opposition to the $3.8 billion pipeline, which will pass through Iowa, Illinois, North Dakota and South Dakota.
Dakota Access, a subsidiary of Dallas-based operator Energy Transfer Partners, agreed last week to halt construction near the reservation until a hearing Wednesday in federal court. The judge said he'd rule by Sept. 9 on a request by the tribe to stop construction near their reservation, which straddles the North Dakota-South Dakota border. As of midday Thursday, construction had not resumed.
ETP didn't immediately respond to requests for comment from The Associated Press regarding when construction could restart.
The Iowa landowners plan to appeal the board's action to district court, and hope to delay construction until a court can hear their legal challenge to the project. An order the board issued Wednesday preventing Dakota Access from doing work on the 14 parcels until Monday remains in place.
Dakota Access attorney Bret Dublinske argued to the utilities board earlier Thursday that landowners have waited too late in the process to try to stop the project, which crosses 18 Iowa counties.
"What really is being asked for here is for this very small fraction of people who have been zealous objectors, many of them since the very beginning ... are being allowed to say were going to mess up the entire project," Dublinske said.
But the landowners' attorney, Bill Hannigan, said that the case is "a question of whether a private entity which provides no services whatsoever to Iowans may nonetheless use the state's police power to take private property from private citizens for its private purposes and its private profits."