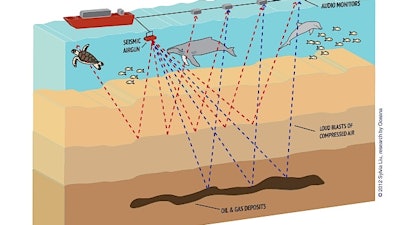 Oceana
SANDY HOOK, N.J. (AP) — It's been compared to hearing dynamite explode, or standing next to a jet engine.
Seismic surveying involves blasting the ocean floor with sound waves that bounce off the sea bed and are recorded by ships. It's extremely useful in finding deposits of oil and natural gas. But there is concern that it can be harmful to marine life, including endangered whales, turtles and dolphins.
With what would be one of the largest tests ever planned for the Atlantic Ocean now being considered by federal officials, two U.S. senators from New Jersey and environmental groups from around the country are trying to ban the practice in the Atlantic Ocean.
Three companies have applied for permits to use seismic surveying, and a fourth would use another sound-based technology to search for oil and gas deposits under the ocean floor between Delaware and Florida. Their main obstacle is a permit authorizing them to harass or harm marine animals while doing the work. The National Marine Fisheries Service is considering the applications.
Environmentalists say the noise and shock waves from the testing can injure or even kill marine animals. The blasting could be nearly continuous, every few seconds around the clock, for a year.
"We describe it as dynamite-like explosions under the water," said Ingrid Biedron, a marine scientist with the Florida-based Oceana group. "It is extremely loud. The sound from one survey gun can travel up to 2,500 miles. That's the distance from Washington, D.C., to Las Vegas. This could sonify that whole area of ocean."
New Jersey environmental groups fought unsuccessfully for two years to block a similar but much smaller project off the coast of their state that was carried out last summer. Its stated purpose was to study sediment on the sea floor dating back millions of years to study climate change, but it used the same technology.
"As bad as that was, these permits are orders of magnitude worse," said Cindy Zipf, executive director of New Jersey-based Clean Ocean Action. "The harm would also be much worse, including to the Right Whale, the most endangered animal in the ocean."
Permit applications from the companies acknowledge the sound waves can disturb marine animals and potentially affect their hearing but doubt that any would be killed or even seriously harmed.
The U.S. Bureau of Ocean Energy Management wrote in 2014 that, "To date, there has been no documented scientific evidence of noise from air guns used in geological and geophysical seismic activities adversely affecting animal populations."
The International Association of Geophysical Contractors says the industry takes care to avoid marine life, adding "there has been no observation of direct physical injury or death to free-ranging fishes caused by seismic survey activity. Any impacts to fish from seismic surveys are short-term, localized and have not led to significant impacts on a population scale."
"The claims that environmental groups have been circulating are speculative and anecdotal, at best, pointing to what 'might,' 'could,' or' may' happen," said Nikki Martin, the association's president.
Richie Miller, president of one of the companies, Houston-based Spectrum Geo Inc., said that in his 30 years in the business, it has been unusual to even encounter many marine mammals.
"We've never experienced any injury or fatality to marine mammals from our operations, and I've never seen or heard of it elsewhere in the industry," he said.
Miller said the language of the permit defining a disturbance of a marine animal as a "take" has created great misunderstanding.
"A single 'take' is the same thing as a ferry boat running through the ocean and a dolphin moving out of the way," he said. "That's characterized as an impact. If a marine mammal gets near to us, we stop, but we rarely have to do that."
Zipf said that within days of the start of the New Jersey testing in 2015, at least three whales were found dead. None of the animals was tested to determine how it died, or whether its hearing was affected.
Martin said seismic surveying has the potential for "a plethora of beneficial uses for the United States."
"Eighty percent of the energy in 2040 will still be produced from fossil fuels," she said. "It's difficult to identify where these resources are without our geophysical surveying. It's a long-term play that the industry plans to be part of for a long time."
New Jersey's two Democratic U.S. senators, Bob Menendez and Cory Booker, have introduced a bill to ban seismic testing in the Atlantic Ocean. In addition to the two New Jersey senators, the bill has three other co-sponsors, all Democrats. It is considered likely to draw opposition from senators from oil- and gas-producing states.
But there is bipartisan opposition to the testing; U.S. Reps Mark Sanford, R-South Carolina, and Bobby Scott, D-Virginia, sent a letter to federal regulators in December from 31 House members from both parties asking for a halt to the practice.