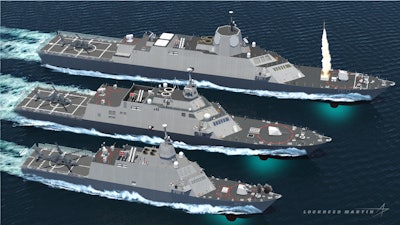 Lockheed Martin and Daewoo Shipbuilding & Marine Engineering (DSME) have signed a comprehensive teaming agreement to partner on the Multi-mission Combat Ship (MCS), which is based on a DSME hull design and intended for the corvette market.
Both companies bring experience and unique capabilities to the arrangement. Lockheed Martin has a track record of developing and integrating complex systems into a wide variety of U.S. and international naval vessels. DSME is one of the world's largest shipbuilders and has a history of producing highly capable naval vessels for the Republic of Korea and other international customers.
"DSME's MCS hull design coupled with Lockheed Martin's expertise in program and systems integration will allow the team to bring this capable ship to the international marketplace at an affordable price," said Joe North, vice president of Littoral Ships and Systems at Lockheed Martin Mission System and Training.
"This Teaming Agreement on MCS and strategic cooperation will not only provide our customers with high capability vessels on time, but also further facilitate our two companies' joint efforts in exploring opportunities on a global scale." said Deog-Soo Kim, vice president and the head of the Naval & Special Ship Business Management Division at DSME. "Moreover, the Korean government is pursuing 'New-Economic Growth Activation by Defense Industry' as one of the state development agendas and this agreement is a good example of achieving the objective."
Lockheed Martin and DSME are continuing to explore additional business opportunities in the international naval market where integrated, multi-mission corvettes will play a vital role in coastal protection as well as regional operations.