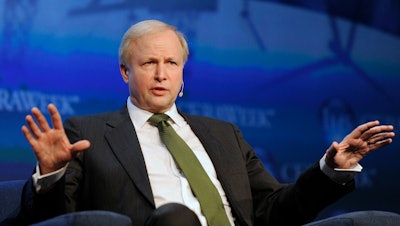 AP PHoto/Pat Sullivan
LONDON (AP) — British energy producer BP has suffered a revolt by shareholders who objected Thursday to increasing Chief Executive Bob Dudley's pay package by 20 percent after profit plunged last year.
Almost 60 percent of shareholders rejected the remuneration report, which awarded Dudley a $19.6 million pay package even though the company experienced a drop in profit and planned thousands of job cuts worldwide. But the vote was only advisory, and merely registered displeasure.
The company said it got the message — and promised to review its remuneration policy ahead of next year's meeting. New proposals are expected to be put forward for shareholder approval in 2017. "We hear you," Chairman Carl-Henric Svanberg said in excerpts released Thursday. "We will sit down with our largest shareholders to make sure we understand their concerns and return to seek your support for a renewed policy."
Aberdeen Asset Management, which manages more than $411 billion, was among those complaining BP's award system was too complex. A representative from the Church of England also questioned the morality of such a rise, given that Britain is undergoing a time of fiscal austerity.
Shares in BP fell almost 14 percent in 2015. Its earnings plunged 91 percent in the fourth quarter, though much of that can be attributed to falling global oil prices. Brent crude, the benchmark for international oil, fell 34 percent last year and hit a 12-year low of $27.10 a barrel in January. It traded at $44.37 on Thursday, having been above $100 a barrel as recently as September 2014.
The company also has been paying off costs related to the 2010 Deepwater Horizon disaster in the Gulf of Mexico, which is still weighing on earnings. Underlying replacement cost profit, an industry standard to measure earnings, fell to $196 million from $2.2 billion in the same quarter a year earlier.
Ann Dowling, a non-executive director of BP, stressed in remarks ahead of the vote that the existing pay policy had been based on "true underlying performance — how Bob and the team manage the aspects of the business over which they have control— strategy, operations and safety." She defended the decision, but promised to "take the feedback around this year's report seriously."
Simon Walker, the director-general of the Institute of Directors, said BP's reaction to the shareholder revolt would determine the future of corporate governance in the U.K. "The shareholders have spoken, and BP cannot shrug of this significant expression of disapproval with the CEO's pay package," he said in statement. "British boards are now in the last chance saloon, if the will of shareholders in cases like this is ignored, it will only be a matter of time before the government introduces tougher regulations on executive pay."