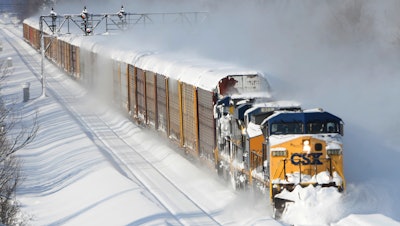 AP Photo/Gary Wiepert
OMAHA, Neb. (AP) — CSX railroad plans to continue cutting costs this year to deal with slowing freight volume and declining profits. Executives at the Jacksonville, Florida-based railroad discussed their outlook one day after reporting a 19 percent drop in first quarter profit.
"I'm really pleased with how we responded," Chairman and CEO Michael Ward said.
CSX said it reduced expenses by about $270 million in the quarter, and plans additional cuts through the year. About 2,000 workers have been furloughed and about 400 of the railroad's locomotives are parked. CSX said coal demand remains anemic, and it expects to haul roughly 25 percent less coal this year. The strong U.S. dollar and weak commodity prices are hurting other shipments.
But the railroad still expects the economy to continue growing slowly. Ward said the economy is much better in areas that rely on consumer spending, such as automotive production, but weak in areas that involve heavy industry or trade. "The consumer economy is solid," Ward said. "The industrial economy is more challenged."
That's why CSX predicts its earnings and total volume will decline in 2016.
In the first quarter, CSX Corp. earned $356 million, or 37 cents per share, in the first quarter. That was down from $442 million net income, or 45 cents per share. The railroad's revenue declined 14 percent to $2.62 billion revenue in the first quarter.
Gimme Credit analyst Phil Adams said "CSX was able to partly offset lower revenue with cost cutting." CSX shares gained $1.11, or 4.4 percent, to $26.10 in afternoon trading Wednesday.
Earlier this week, Canadian Pacific railroad dropped its effort to acquire CSX's rival eastern railroad Norfolk Southern. Ward said that should end any speculation about major railroad mergers anytime soon. There's room for railroads to continue improving their operations without merging, especially because there is little overlap in tracks among the major railroads, Ward said.
"There's not even a lot of economic sense to it," said Ward, who twice rebuffed Canadian Pacific's efforts to initiate merger talks with his railroad in the last 18 months. No major railroad mergers have been approved since the federal Surface Transportation Board adopted tough rules for them in 2001.
CSX operates more than 21,000 miles of track in 23 Eastern states and two Canadian provinces.