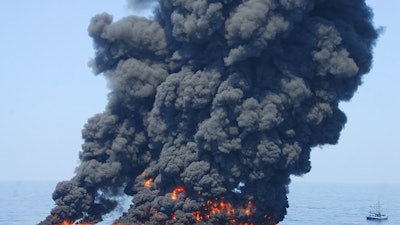 Flickr
NEW ORLEANS (AP) — A federal judge ruled that BP does not have to pay for economic losses other businesses suffered when the federal government shut down deep-water drilling in the wake of BP's catastrophic 2010 oil spill in the Gulf of Mexico.
U.S. District Judge Carl Barbier in New Orleans issued his ruling late Thursday.
The Obama administration imposed a six-month drilling ban in the Gulf to prevent another disaster. The offshore industry called the moratorium a costly mistake.
Barbier's ruling came in a lawsuit brought by six companies involved in offshore drilling, but plaintiffs' lawyers said thousands of similar claims worth billions of dollars would be affected by the ruling.
The case centered on whether BP was liable under the Oil Pollution Act for the loss of business caused by the moratorium.
Barbier sided with BP and said the law relates only to damages caused by the spill. The judge said Congress never intended for the Oil Pollution Act "to go so far" as to hold a polluter liable for government steps, like a moratorium, "aimed at preventing similar tragedies in the future and which broadly affect an entire industry."
The Oil Pollution Act was passed in 1990 after the disastrous Exxon Valdez oil spill in Alaska and it is the principal law covering oil spills.
At issue was whether BP should be made to pay for damages that were "not a direct result of an oil discharge," Barbier wrote.
Barbier said "there can be no doubt" the moratorium was imposed because the blowout occurred, but the judge said the shutdown was designed to deal with "the risk of possible future blowouts and oil spills from wells other than Macondo and was motivated by perceived weaknesses of industry-wide safety measures."
BP declined to comment Friday on the ruling. The spill has cost the company $55.5 billion, according to a recent BP regulatory filing.
Brent Coon, a Texas plaintiffs' lawyer who represents clients with moratorium claims, said in a statement Friday that the ruling was a setback. Coon's statement said the ruling "bodes poorly for yet another massive block of claims that have been waiting for years" for compensation.
In April 2010, a well being drilled by BP and its contractors blew out and led to the sinking of the offshore rig Deepwater Horizon, killing 11 workers. The blowout caused more than 130 million gallons of oil to leak into the Gulf.
In 2012, BP entered into a settlement with businesses and individuals claiming losses from the spill expected to cost BP over $10 billion. Last year, BP reached an $18.7 billion agreement with governments in the five Gulf Coast states affected by the spill.