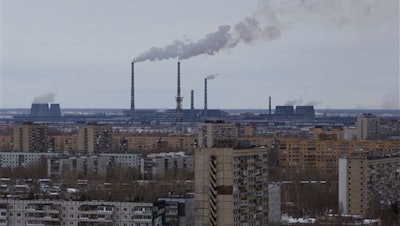 AP Photo/Ivan Sekretarev
TOGLIATTI, Russia (AP) — Once intended as a Soviet rival to the capitalist symbol of Detroit, Russia's auto-making hub of Togliatti is sliding into economic depression. And blue collar workers are taking the brunt of the pain as employers use the threat of joblessness to slash or withhold wages at will.
Far from its 1960s roots as a socialist vision of the future, central Togliatti is lined with discount retailers, payday lenders and pawnshops as the recession has cratered the car market.
Workers from the vast Lada car factory say they're increasingly desperate but too scared to speak out due to what they claim is the threat of retaliation by managers.
"People are frightened to say even a single word," production worker and union activist Nataliya Yemshanova said at a union meeting in a member's apartment. "I can't remember that happening before. They can pay less money. People will agree to any wage."
Yemshanova provided The Associated Press with pay slips showing monthly earnings of just 10,300 rubles ($135) in January. She said her pay was slashed by half after she refused a demand to switch to cleaning floors, and claimed some managers at AvtoVAZ, the company which owns the Lada factory, were using the threat of unemployment to force workers — especially those critical of the management — to accept lower pay.
A payslip in the name of Yemshanova's brother, who works for the same company, shows earnings of 7,800 rubles ($100) for January.
Sitting near Yemshanova at the meeting, union leader Anna Perova, who has worked for AvtoVAZ since the Soviet era, held up her right hand to show how she lost parts of four fingers in 2011 — crushed, she says, by a faulty metal press. She warns of a rise in industrial accidents as budgets for maintenance and training come under strain. "People are sent to different production areas where they don't understand what's going on. That happened recently. A woman pressed a button for an examination and her hand was utterly crushed," she said. Perova's account could not be independently confirmed by the AP.
AvtoVAZ and Renault-Nissan, a French-Japanese alliance that controls AvtoVAZ through a holding company, did not respond to requests for comment on the allegations of wage cuts and industrial accidents.
Many of Togliatti's major employers supply the factory, meaning the car market's malaise infects the city as a whole. AvtoVAZ lost almost $1 billion in 2015 and its liabilities exceed its assets, leading auditors Ernst & Young to warn of "a material uncertainty which may cast significant doubt on (Avtovaz's) ability to continue as a going concern."
The company is the highest-profile casualty of a plunging car market, where sales dropped by more than a third last year and some foreign firms, including General Motors, have pulled out entirely.
Lada's factory is now implementing a cost-saving plan that includes a reduction in head count. Moving to a four-day week this month has essentially meant a 20 percent pay cut across the board, on top of the arbitrary wage cuts workers claim to have suffered.
President Vladimir Putin and Prime Minister Dmitry Medvedev have shown support for the industry with a string of factory visits and promised some state support, though the numbers are unclear.
Under Renault and Nissan's ownership of AvtoVAZ, there has been a drive to modernize the Lada range with new models based on Renault designs, but this has meant importing parts and exposing the Soviet-era network of parts suppliers in the city to extra competition. AvtoVAZagregat, a company which made interiors for AvtoVAZ cars but is under separate ownership, ceased production last year and is now in bankruptcy proceedings, leaving more than 2,000 people out of work. CEO Viktor Kozlov has been arrested on suspicion of tax fraud.
Elena Seliverstova, who worked for AvtoVAZagregat in purchasing for 25 years, showed the AP documents detailing an ever-increasing portion of unpaid monthly wages since July, culminating in January, when she received none of her monthly earnings of almost 23,000 rubles ($300), money she needs to support her elderly mother.
"You know, it's a complete catastrophe," she said through tears. Only financial help from her son has prevented her electricity from being cut off in the middle of winter, Seliverstova said.
Mechanic Andrei Dobrokhotov said he had not received any money from AvtoVAZagregat since June, forcing his family to depend on cheap foods like barley. Both he and Seliverstova said they had looked for new work but found none, and that AvtoVAZagregat had retained documents of theirs that are required by law when registering at a new workplace.
More than 1,000 people protested the AvtoVAZagregat collapse on a Togliatti square in November, demanding unpaid wages, in a demonstration organized by local communists. Seliverstova, who was there, doubts political action by workers can force the payment of wage arrears or get support from the city government, which is itself under pressure due to lower tax receipts from the car industry.
Russian legislation stacks the deck against workers, she says.
While the Russian constitution guarantees the right to strike, in practice the process of organizing a strike is intensely bureaucratic, involving numerous documents that can easily be ruled invalid by officials or courts. Many companies also agree to recognize only so-called official unions with links to management or local authorities.
Four hours' drive from Togliatti in the city of Ulyanovsk, the birthplace of revolutionary leader Vladimir Lenin, the UAZ factory is surviving by offering cheap vehicles that have not changed much since Soviet times.
The factory, which had its origins producing cheap wooden-bodied trucks in World War II, produces basic, off-road vehicles popular both with the Russian army and consumers driving on potholed roads in the provinces. Some older models even lack airbags. Last year, its sales in the Russian market dropped two percent, a much better performance than the market as a whole.
UAZ has dropped plans to ditch its Hunter model, a design dating back more than 40 years. The flagship Patriot SUV has its origins in designs from the 1990s, while a 1960s-designed van is also still in production.
"It breaks down sometimes but it's easy to repair, it doesn't need roads and it'll travel through Russian dirt," company representative Konstantin Sazonov said as he watched the vans roll off the production line, which relies heavily on manual labor.
Even in Ulyanovsk, however, workers are under strain. The region has some of the lowest wages outside Russia's impoverished North Caucasus, with pay barely one-third of that in Moscow. Food prices have been rising rapidly since Russia banned imports of European Union food in 2014, and inflation ran at 12.9 percent last year.
While there is no sign of organized public unrest in rustbelt towns like Ulyanovsk and Togliatti, as the ruling United Russia party dominates the political scene, that could change, with some senior government officials voicing concern.
In an interview with the Kommersant business daily last month, Ulyanovsk regional governor Sergei Morozov said he had seen government research reporting that "up to half" of the population would be prepared to protest against tough economic circumstances. "Those are very disturbing numbers for all parts of the government."