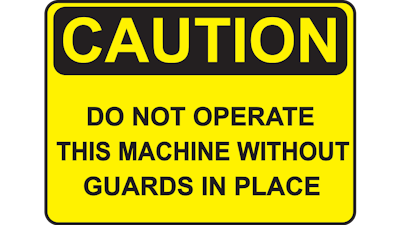 OSHA announced Monday that it has cited automotive parts manufacturer Strahle + Hess USA Inc. for exposing employees to amputation hazards at the company's Auburn, AL facility. The company faces $140,554 in penalties.
OSHA said an employee suffered a partial finger amputation while attempting to remove material from a lamination machine. Srahle + Hess USA has been cited for allowing employees to operate machinery without proper guarding and for failing to develop and train employees on lockout/tagout procedures to control hazardous energy, lockout energy sources and notify OSHA within 24 hours of the employee's hospitalization, as required by law.
OSHA conducted the inspection in conjunction with the Agency's National Emphasis Program on Amputations and Regional Emphasis Program for Safety Hazards in Auto Parts Industry.
"This company exposed workers to hazards that put them at risk for serious injuries," OSHA Mobile Area Director Jose A. Gonzalez said in a statement. "Companies must continually evaluate and correct workplace safety deficiencies to ensure workers return home safe and healthy at the end of each day."
The company has 15 business days from receipt of the citations and proposed penalties to comply, request an informal conference with OSHA's area director, or contest the findings before the independent Occupational Safety and Health Review Commission.