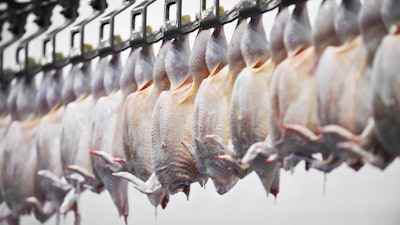 The U.S. Department of Labor's Occupational Safety and Health Administration (OSHA) has cited Koch Foods in Gainesville, Georgia for multiple safety and health violations at its poultry processing plant. The company faces proposed penalties of $208,977.
OSHA cited Koch with a repeat violation for exposing employees to amputation hazards by failing to provide machine guarding. Fourteen serious citations were issued for failing to provide fall protection, not identifying which employees were using hazardous energy control locks (lock-out-tag-out), and failing to train employees exposed to noise hazards. OSHA also issued two other-than-serious citations to the employer.
"This company failed to protect its employees from serious hazards by disregarding important workplace safety requirements," said OSHA Area Office Director William Fulcher, in Atlanta. "Employers must identify and correct hazards to ensure the safety and health of their employees."
Koch Foods has 15 business days from receipt of its citations and penalties to comply, request an informal conference with OSHA's area director, or contest the findings before the independent Occupational Safety and Health Review Commission.