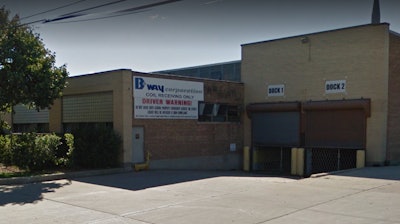 Google Earth
On September 10, 2016, a machine at Chicago metal container manufacturer BWAY Corp. cut the tip off of a 52-year-old worker's middle finger. The temporary worker was clearing a jam in the machine when the incident occurred.
According to a recent report from OSHA, this is the third time since the summer of 2015 that a BWAY worker has suffered an amputation injury.
The most recent injury happened on the same type of machine that injured a 65-year-old employee in August 2015. The worker lost the tip of her right middle finger after it was caught in a stacker plate on machine.
In October 2015, a 56-year old-employee lost the tip of his right index finger when cleaning a chuck on a machine at the facility.
Had the company complied with workplace safety standards, OSHA says that the injuries were preventable. As a result, OSHA hit the company with $81,062 in penalties on Dec. 27, 2016.
Investigators determined that B-Way not only installed the machine's safety guards improperly, but it also did not instruct workers properly in lockout/tag out procedures.
"Each year, manufacturing workers suffer hundreds of preventable injuries because employers fail to install safety guards properly and train workers in machine safety procedures," said Kathy Webb, OSHA's area director in Calumet City in a press release. "BWAY Corp. needs to review its machines' operations corporate-wide immediately to ensure they have adequate and properly installed safety guards. They must also be sure that workers are using lockout/tag out procedures to prevent them from coming in contact with operating parts."
Based in Atlanta, B-Way specializes in the production of metal and plastic containers for product packaging has 28 facilities in the U.S., Canada and Puerto Rico.