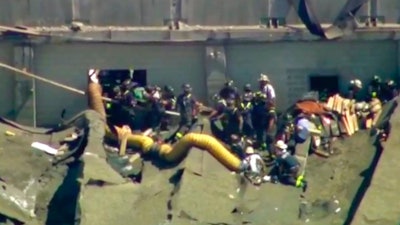 WFLD-TV via AP
CHICAGO (AP) — Fire Department officials say an explosion that injured 10 people at a Chicago water treatment plant was caused by a worker using a torch near a "significant amount" of methane gas.
The Office of Fire Investigation said Friday that the gas ignited and the explosion lifted the roof on the one-story brick building, causing a section of the roof to collapse.
Two of the 10 injured people had to be rescued from the rubble Thursday. Firefighters pulled one person out shortly after the explosion occurred around 11 a.m. It took about two hours to rescue the second person, who Fire Commissioner Jose Santiago said was "buried and entombed" by fallen debris.
The 10 people were taken to area hospitals. At least two had been discharged as of Friday morning.