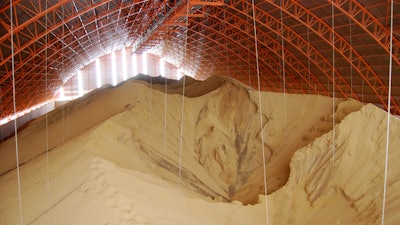 The U.S. Department of Labor's Occupational Safety and Health Administration (OSHA) has cited Wichita, Kansas-based Gavilon Grain after two workers were engulfed in a soybean storage bin, and died. The company faces penalties of $507,374 and OSHA has placed it in the Agency's Severe Violator Enforcement Program.
OSHA cited Gavilon Grain for failing to provide lifelines and fall protection, lockout equipment, rescue equipment and allowing employees to enter a bin in which bridged and/or hung-up grain was present. Joshua Rasbold, 28, and Marcus Tice, 32, died after they were buried under 20' of soybeans. Gavilon has faced 24 cases of safety and health violations over the past seven years.
"Moving grain acts like quick sand, and can bury a worker in seconds," said OSHA Regional Administrator Kimberly Stille. "This tragedy could have been prevented if the employer had provided workers with proper safety equipment, and followed required safety procedures to protect workers from grain bin hazards."
The company has contested the citations and will appear before the independent Occupational Safety and Health Review Commission.