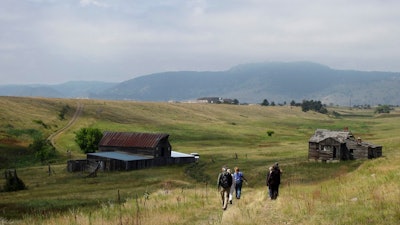 AP Photo/Dan Elliott, File
DENVER (AP) — A retired professor testified Tuesday he found evidence that billions of particles of plutonium had escaped from a former nuclear weapons plant in Colorado and settled on land that is now a wildlife refuge, raising concerns about whether the site is safe for the public.
But an attorney for the federal government countered that the study was done in the mid-1970s, and that the Environmental Protection Agency determined years later that the site was safe.
The exchange was part of a hearing in federal court over whether the public should be allowed onto Rocky Flats National Wildlife Refuge west of Denver.
The U.S. Fish and Wildlife Service wants to open trails at the refuge, but environmental and community activists filed a lawsuit to block the plan, saying the agency has not adequately studied safety.
Attorney Randall Weiner asked U.S. District Judge Philip Brimmer to issue an injunction delaying the opening at least until their lawsuit can be heard.
"They (the agency) won't suffer if they wait a couple weeks or a couple months until your honor rules on our case," Weiner told Brimmer.
Justice Department attorney Jessica Held said the site has been studied and found safe.
Brimmer did not issue a ruling after the daylong hearing and did not indicate when he would decide.
Rocky Flats was the site of a government plant that manufactured plutonium triggers for nuclear bombs from 1952 until 1989.
The area where plutonium was processed underwent a $7 billion cleanup but remains closed to the public. The site's buffer zone — about 8 square miles (21 square kilometers) surrounding the manufacturing site — was turned into a refuge.
The Fish and Wildlife Service plans to open some trails to the public in September. Opponents say hikers, cyclists and horses could stir up plutonium particles in dust, where they could inhale it or inadvertently carry it offsite.
Harvey Nichols, a retired University of Colorado professor who studies the long-distance movement of small particles, testified Tuesday that when he analyzed snow that fell on the buffer zone in the 1970s, some areas had plutonium particles in concentrations up to 100 billion per acre (0.4 hectare).
Under cross-examination by Held, Nichols acknowledged he has not gone back to study the site since the EPA declared it safe in 2007. Nichols said he wanted to but was unable to get funding.
Weiner argued that the Fish and Wildlife Service changed the routes of the planned trails after the EPA's finding, and that the trails covered newly acquired refuge land that the EPA had not studied.
He said the government should examine those changes to see if they would affect the safety of the site.
Held said the trail changes were minor and that the additional land was never part of the original Rocky Flats site.