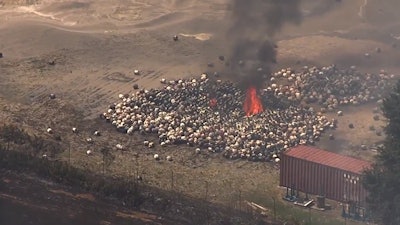 WTVD
CLINTON, N.C. (AP) — An explosion and fire at a propane cylinder plant in North Carolina has injured two workers.
Sampson County spokeswoman Susan Holder tells news outlets emergency management received a call of multiple explosions at the Rapid Xchange facility on Friday afternoon.
Two workers were airlifted to a burn center with unspecified injuries believed to be non-life-threatening.
Holder says responding firefighters worked for around two hours to keep the fire away from the woods as well as two 30,000-gallon (113,559-liter) liquid propane tanks and 25,000 propane cylinders.
Everyone within a 1-mile radius was evacuated.
Holder says one firefighter was treated and released at the scene for an unspecified injury.
The North Carolina Department of Labor and the state Bureau of Investigation are working with the county fire marshal to determine the fire's cause.