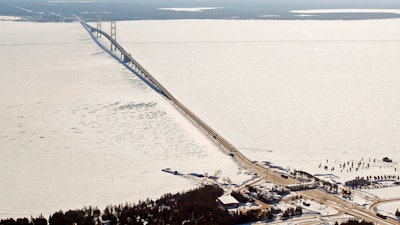 MACKINAW CITY, Mich. (AP) — Oil is flowing again through side-by-side pipelines beneath the waterway that connects Lake Huron and Lake Michigan. Enbridge, Inc. announced Monday afternoon it has restarted its Line 5, which was shut down over the weekend. The company blamed a power outage.
Senators Gary Peters and Debbie Stabenow of Michigan had pushed for a temporary shutdown because of high winds and heavy currents in the Straits of Mackinac. Line 5 carries 23 million gallons (87 million liters) of oil daily between Superior, Wisconsin, and Sarnia, Ontario.
Enbridge also was preparing to launch an underwater vehicle to inspect damage to the underwater pipes that officials say may have been caused by a ship's anchor. The suspected anchor strike may also have damaged two electric cables that leaked coolant fluid into the straits.