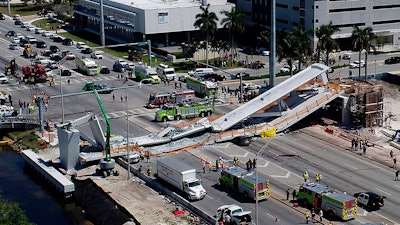 Pedro Portal/Miami Herald via AP, File
MIAMI (AP) — Richie Humble says flashbacks and anxiety attacks have haunted him ever since a pedestrian bridge near a Florida university fell on the car he was riding in, killing six people including the college friend driving their vehicle.
Humble said Monday that the collapse caused a fracture in his back, along with knee and neck problems. But he said his mental health has caused him to abandon all but one of his classes at Florida International University. The 19-year-old FIU student filed a negligence lawsuit last week against several companies involved in the bridge's construction, the latest of a series of suits by injured survivors or victims' families.
He said he wouldn't want anyone to go through what he did.
His friend, Alexa Duran, was driving him back from a doctor's appointment March 15 when he heard a crack and saw the bridge topple on top of them. He shouted Duran's name and ducked down as fast as he could. She died at the site of the collapse without ever responding to his screams.
"She wasn't saying anything. And I had her blood on me, and I didn't really know what to do," he said. "I looked up at her one more time. I saw just her hair, nothing else."
The bridge was well known to FIU students like Humble and Duran. Their university had celebrated its installation five days before the collapse with officials saying they were filled with pride for seeing a 950-ton concrete bridge that was prefabricated and quickly installed over a busy six-lane highway.
Angry at engineers, school officials and the government, Humble said more should have been done to protect drivers and pedestrians near the bridge after it was swung into place.
"There were human lives at risk. It's just something you shouldn't play with at all ... people including myself; from this point on they will be changed," he said.
The teenager's mother, Lourdes Humble, said she has found her son crying and curled up in a fetal position days after surviving the collapse.
"He is a 19-year-old who cannot take a shower without screaming and crying. I have to go in and get him out of the shower. (It has been) very difficult for myself, my husband, my mother," she said.
Companies have not commented on the lawsuits.
Stuart Grossman, Humble's attorney, said his team is looking at the bidding process, the design and whether traffic should have been diverted the days that followed the installation. The construction of the bridge was behind schedule and over budget, partly because of a key change in the design and placement of one of its support towers north to the edge of a canal, documents have shown.
The cause of the collapse is not clear. Before the failure, crews were adjusting a tension rod on the north end of the bridge, and authorities continue to investigate whether cracking that was reported on the same side before the span fell contributed to the accident.
"The experiment failed, people are dead and Richie is not lucky. You are not lucky to have gone through something like this," Grossman said. "He is fortunate he survived. But this isn't winning the lottery."