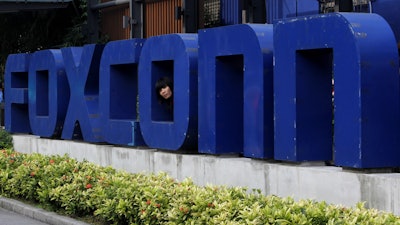 MADISON, Wis. (AP) — State documents show emissions from Foxconn Technology Group's planned manufacturing complex would rank among the highest in southeastern Wisconsin for toxins that create air pollution known as smog.
Foxconn's most significant air pollutants would be volatile organic compounds and nitrogen oxides, according to documents filed with the state Department of Natural Resources. The state's air management staff said the factory would increase such pollutants by about 4 percent in Racine County, a figure officials said is manageable, the Milwaukee Journal Sentinel reported .
Smog can be a health risk and harm the lungs for people working and exercising outdoors.
The U.S Environmental Protection Agency made a preliminary decision last year that much of southeastern Wisconsin violated new ozone regulations approved during President Barack Obama's administration. Republican Gov. Scott Walker has asked President Donald Trump's administration to set aside the tougher limits, arguing that much of the ozone pollution is from nearby Illinois.
The DNR doesn't believe Foxconn or Racine County will face stricter limits under the new law, said Gail Good, director of air management for the agency. The county is complying with existing ozone limits and plans to work with Foxconn before the new regulations go into effect later this year, she said.
The department is reviewing Foxconn's permits and said it will likely require additional emissions cuts on top of what the company is proposing.
The DNR has given preliminary approval for four Foxconn air pollution control permits. The agency is currently gathering public comments and is expected to make a final decision next month.
The $10 billion plant could employ up to 13,000 and will manufacture advanced liquid crystal display panels. The Taiwan-based company aims to break ground in the next 60 days and be operational late next year, a Foxconn executive said.