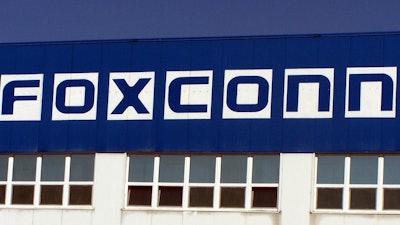 Wikipedia
MILWAUKEE (AP) — Foxconn Technology Group is seeking an air emissions permit and the right to tap 7 million gallons of water a day from Lake Michigan, an early glimpse at the regulatory requirements the company faces in Wisconsin.
The city of Racine asked the state Department of Natural Resources for permission Monday to divert water from the lake primarily to serve the planned display panel factory and campus, the Milwaukee Journal Sentinel reported .
Under the compact, all water shipped out must be returned to Lake Michigan minus what's lost to evaporation or what's incorporated into Foxconn's manufacturing process.
The Department of Natural Resources created a website with information on environmental reviews the Taiwan-based company will face for its industrial campus in Mount Pleasant.
The filing includes details of the types of pollutants that will be produced and how the company plans to control emissions. The DNR is taking public comments on the first air permit and hopes to complete work on the permit in April, said Jim Dick, a department spokesman.
Foxconn must acquire permits for air, wastewater and storm water. State legislation that gave Foxconn $3 billion in incentives also exempted the company from other environmental requirements, such as disturbing wetlands and building in stream beds.
The filing indicates that Foxconn will begin with the construction and assembly of flat-panel displays, such as televisions. Then it will continue with a fabrication plant and glass manufacturing plant. Company officials hope to have the flat-panel plant operational by next January.
Foxconn said the plant will emit nitrogen oxides and volatile organic compounds, which contribute to ozone pollution. Ozone exposure can reduce lung function, cause aggravated asthma and other lunch diseases.
The company said it will use environmentally friendly design features at the Mount Pleasant location and will work to reduce carbon emissions.
The $10 billion manufacturing center could employ up to 13,000 workers.