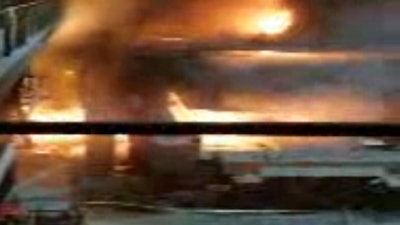 WCPO
MIDDLETOWN, Ohio (AP) — Officials investigating a fire that damaged a steel plant in southwestern Ohio say it could take weeks to determine the initial cause and full cost of the blaze.
The Hamilton-Middletown Journal-News reports crews responded to AK Steel's Middleton Works on Saturday morning.
An employee anonymously submitted a video of the fire to WCPO in Cincinatti. The person didn't want to be identified for fear of losing their job.
Middletown fire Chief Paul Lolli says a vessel released molten steel before it was poured into molds.
Officials say the molten steel ignited equipment and spread throughout the building.
Workers were evacuated from the facility. The company says no employees were hurt.
Deputy Fire Chief Jeff Spaulding says one firefighter was treated for minor injuries and was released.