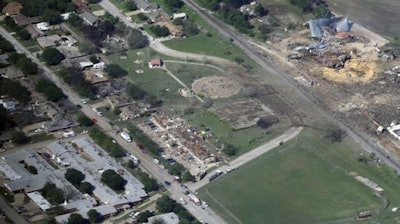 AP Photo/Tony Gutierrez, File
WEST, Texas (AP) — The town of West, Texas, and several other plaintiffs have reached settlements and partial settlements of claims stemming from a deadly April 2013 explosion in the central Texas town.
Waco-based state District Judge Jim Meyer has canceled a trial set to begin Tuesday. The settlements are the latest among more than 200 claims filed in the aftermath of the West Fertilizer Co. blast that killed 15 people and left dozens injured.
Plaintiffs' spokesman and Waco attorney Steve Harrison tells the Waco Tribune-Herald the city and a nursing home reached settlements with CF Industries but have unresolved claims against the other major defendant in the case, El Dorado Chemical Co.
Harrison says settlement terms are confidential.
Defendants either manufactured or sold fertilizer that caught fire and exploded. They've denied any wrongdoing.