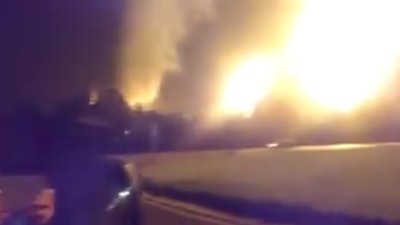 AmazingThinks, YouTube
Two explosions and a fire rocked a natural gas plant in southern Mississippi on Monday night, but no one was injured and flames continued for hours Tuesday, authorities said.
Emergency Management Director Early Etheridge in Jackson County said the first explosion occurred at 11:30 p.m. and was followed by a larger explosion minutes later. Etheridge said the second blast could be felt up to 10 miles away.
"The two workers on duty were in a safe room at the time of the two explosions and were not injured," Etheridge said.
"The explosion and fire which followed has heavy damaged the processing area," he said.
Etheridge added that the fire still burned Tuesday morning but "has diminished over the past several hours."
Firefighters continued to stream water on the fire, he said.
"What's burning now is residue in the lines," he said. "We aren't sure how long it will continue to burn."
The plant located near Pascagoula had just been sold to the minority owner, Enterprise Products Partner L.P., from majority owner BP.
Company spokesman Rick Rainey said the Houston-based company had owned 40 percent and BP 60 percent.
"Once the fire is out, we'll launch an investigation into the cause of the explosion and fire," Rainey said.
The Mississippi plant removes the liquid from natural gas and ships it to utilities along the East Coast, Rainey said. The liquid is then sent to other plants where propane and butane are produced.
"We do not know at this time how long with plant will be offline," Rainey said.
He said the plant has a capacity of 1.5 billion cubic feet of natural gas per day, but the plant was nowhere near its capacity.