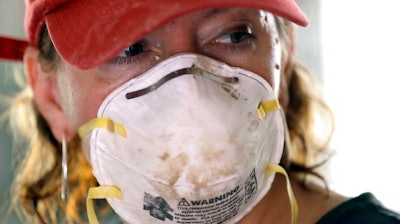 AP Photo/David J. Phillip
Officials say all fires are out at a flood-damaged Houston-area chemical plant after authorities conducted controlled burns on several trailers containing highly unstable compounds.
The Harris County Fire Marshal's Office said in a statement Sunday evening that all nine trailers filled with organic peroxide at the Arkema plant in Crosby, Texas, have burned. Earlier Sunday, authorities said that a controlled burn had started on the six trailers that had not caught fire in previous days.
Three trailers had already caught fire at the plant after backup generators were consumed by Harvey's floodwaters, which knocked out the refrigeration necessary to keep the chemicals from degrading and catching fire.
Officials said the "proactive measures" to ignite the six remaining trailers wouldn't pose any additional risk to the community. People living within 1.5 miles of the site remain evacuated.
The fire marshal's office says state, federal and local agencies will continue monitoring the air, adding that all data to date indicates no impact to air quality.