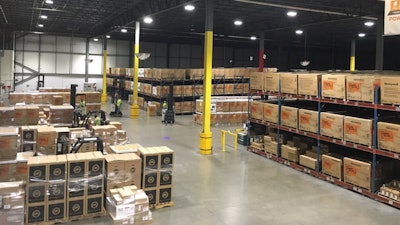 @AnnSterling, Twitter
WHITEWATER, Wis. (AP) — Employees at a portable generator distribution center in southern Wisconsin are putting in overtime to keep up with demands caused by Hurricane Harvey.
Generac Power Systems spokesman Art Aiello told The Janesville Gazette the company went into "hurricane-preparedness mode" last week.
"People don't really understand how dependent they are on electricity," Aiello said.
Company officials monitor storms so they can be ready to contact retailers in affected areas to assess demand, Aiello said.
"We're always prepared for situations like that affecting east Texas," he said.
The company's main distribution center in Whitewater has increased shipments of portable generators to Texas in anticipation of increased demand after waters recede. The portable generators can be filled with gasoline and used immediately.
The company also has sent six service technicians to Texas to repair units — even if a unit isn't the Generac brand, Aiello said. The company offers its repair services for free in disaster zones, but generator dealers and retailers may charge, he said.
Officials at the Whitewater production center say it won't increase production until after the water goes down.
Aiello said the company also anticipates increased demand for home standby generators, which run on natural gas or liquid propane. Those models are installed next to a house and can help homeowners avoid losing electricity during flooding.
"We don't wish it upon anybody, but in situations where power goes out, the people here in Whitewater are very proud we're making products here in Wisconsin that are going to help people across North America," he said.