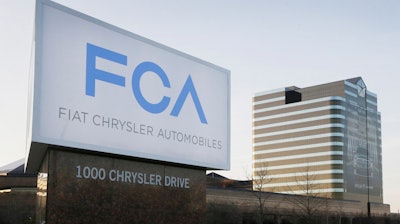 DETROIT (AP) — Fiat Chrysler is recalling over 1.3 million vehicles worldwide to fix malfunctioning alternators that can cause engines to stall or a wiring problem that can make air bags deploy unexpectedly.
The wiring recall covers nearly 771,000 Dodge Journey and Fiat Freemont SUVs from 2011 through 2015. The company says wires can chafe against steering wheel trim, causing electrical short-circuits. That can set off the driver's front air bags, cause wipers to come on unexpectedly, cause switches to fail or illuminate the air bag warning lights.
Customers who see any of the issues should contact a dealer. Dealers will install a covering on the wires or replace them if needed. FCA says it knows of five minor injuries related to the problem but no crashes.
The alternator recall affects nearly 566,000 Chrysler 300s, Dodge Challengers and Chargers and Durango SUVs from 2011 through 2014. Also covered are certain 2012 to 2014 Jeep Grand Cherokees.
The alternators can wear prematurely. That could cause engine stalling and compromise antilock brakes and electronic stability control. Basic braking isn't affected. The alternators also can overheat, increasing the risk of fire. Fiat Chrysler says it has a small number of reports of smoke and a burning smell.