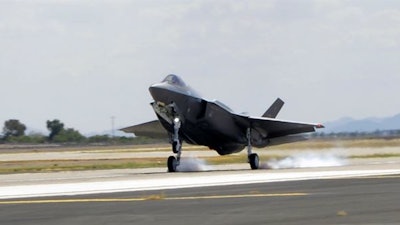 The U.S. Air Force has temporarily grounded 55 F-35 stealth fighters housed at the 56th Fighter Wing of the Luke Air Force Base outside Phoenix, Arizona. The "pause" in F-35 flights stem from five incidents over the last month where pilots have complained of hypoxia-like symptoms emanating from malfunctions in the main oxygen unit.

Symptoms have ranged from dizziness and disorientation to tingling in pilots' extremities. The F-35s housed at LAFB represent 25 percent of the worldwide fleet.
The planes were originally expected to resume operations Monday, but officials now say it is unclear when the "pause" would be lifted. They have also repeatedly noted that none of the incidents were serious and pilots were able to use their training to avert any problems in landing the aircraft. A backup oxygen system activated in each of these situations.
Last year the Air Force grounded 10 F-35 fighters due to insulation problems, and just last month an ejection seat issue was finally been resolved that had led to pilot weight restrictions.
The F-35 is the most expensive plane in history, as once servicing and maintenance costs are factored in, the program could exceed $1.5 trillion in cost. However, proponents tout the F-35's radar-dodging stealth technology, supersonic speeds, close air-support capabilities, airborne agility and a massive array of data-gathering sensors.
In 2011, F-22 Raptor pilots frequently complained about hypoxia-like symptoms during flights. They were grounded for five months until the Air Force discovered defective oxygen-delivery components in the pilot's vest.
The timing for Lockheed Martin, the jets manufacturer, is less than ideal with the Paris Air Show starting next week.