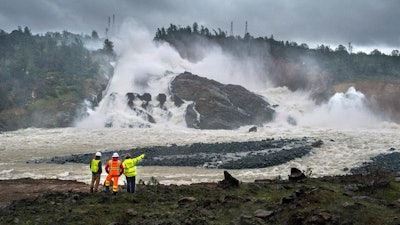 Hector Amezcua/The Sacramento Bee via AP, File
SACRAMENTO, Calif. (AP) — Historical records reveal the late Gov. Pat Brown misled voters about the cost of building the nation's tallest dam, ignored recommendations to delay construction and dismissed allegations that substandard materials were used to build the ambitious project.
Sixty years before a damaged spillway at the Oroville Dam forced thousands of people to evacuate, Brown's administration overcame labor strikes, worker deaths and other scandals to get Oroville built on time, The Sacramento Bee reports.
Oroville Dam is one of the anchors of the state's water supply system. In February, two spillways at the 770-foot-tall dam began ripping away under unusually heavy rain and snowmelt, threatening to flood towns downstream. Nearly 200,000 people were given only an hour's notice to escape.
The state got a handle on the crisis, and it is rushing to carry out hundreds of millions of dollars in repairs before the next rainy season.
The Bee said it didn't find anything in the historical records that directly foreshadowed the spillway troubles. But experts believe the mess was caused at least in part by design and construction problems decades ago.
"It may come back to engineering hubris, and engineering hubris inevitably comes back to bite us in the butt in California," said Jeffrey Mount, a geologist and water expert at the Public Policy Institute of California.
Brown was bent on building a dam and the accompanying State Water Project to expand water deliveries to the parched southern half of California, state archives, oral history interviews and other documents reveal. He campaigned relentlessly and convinced the Legislature and then the voters to approve a $1.75 billion bond measure when the federal government couldn't help with funding.
He later acknowledged in an interview for an oral history project at the University of California, Berkeley that he and his advisers realized the project's true cost was probably around $2.5 billion, but they weren't sure voters could handle such a number.
He believed cost didn't really matter given what was at stake. When advisers urged him to postpone construction because of cost issues, he reasoned that delay would only lead to higher costs.
"You need water. Whatever it costs, you have to have it," he told the Berkeley interviewers.
The dam's construction took five years and was rife with problems. Local historians say 34 men died building the dam and the surrounding infrastructure, workers went on numerous strikes, and in 1964 at least three state workers were fired for buying land near the dam site knowing they'd profit when the state bought it.
The biggest controversy came in 1964 when an Oroville newspaper published allegations that substandard materials were being used at the construction site. Brown called the story "irresponsible and erroneous." State officials later wrote a report that said there was no evidence that the dam "was designed or is being built in an unsafe manner."
J. David Rogers, an engineering expert and dam historian at the Missouri University of Science & Technology, said the main spillway apparently didn't get the same level of attention as the main dam. Top engineers and consultants were brought in from all over the world to ensure the bedrock was strong enough to support the dam. The spillways, however, were built on much more weathered rock that easily crumbled this winter, Rogers said.
After construction was completed in 1968, the dam and Lake Oroville played a critical role in California's booming economic and population growth.
"No other state ever attempted anything like this," Rogers said. "It was larger than any federal dam when it was built. . It was the largest nonfederal public works project in world history. Nothing else out there was as big and as ambitious as the California Water Project."
For his part, Brown saw the Oroville Dam and the water project as chances to leave his personal legacy. "I think it's a monument to me, and I'm very proud of it," he said.