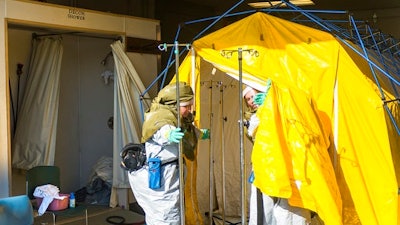 Dougal Brownlie/The St. Joseph News-Press via AP File
KANSAS CITY, Mo. (AP) — Human error and labeling and design problems led to the release of a large chemical cloud over a city in northeast Kansas that sent more than 140 people to the hospital last year and caused others to stay indoors or evacuate for several hours, federal investigators said Wednesday.
The chemical release from MGP Ingredients in Atchison, Kansas, occurred when a delivery truck driver inadvertently unloaded sulfuric acid into a tank that contained sodium hypochlorite. The chemical reaction produced chlorine gas, which drifted for nearly 6 miles over the Atchison region before dissipating after about four hours, according to preliminary findings from the U.S. Chemical Safety Board.
All but a handful of those who went to the hospital suffered from respiratory issues such as shortness of breath and were treated and released.
A tanker truck driver from Harcros Chemicals who was delivering sulfuric acid to the plant on Oct. 21, 2016, was led by an MGP employee to a loading area, where a fill line for the sulfuric acid was unlocked. CSB investigator Lucy Tyler said the MGP employee likely didn't notice that a nearby fill line for sodium hypochlorite also was unlocked.
The truck driver inadvertently connected the sulfuric acid hose from his truck to the sodium hypochlorite fill line, causing a chemical reaction that blew the lid off the tank and sent thousands of gallons of toxic gas into the atmosphere, Tyler said.
It is not yet clear why the sodium hypochlorite fill line was open at the time, she said.
The fill lines look similar, were only 18 inches apart and were not clearly labeled. The investigation also found that neither Harcros nor MGP followed proper unloading procedures and emergency shutdown procedures were not available or were not activated, meaning MGP had no way to stop the truck from emptying its contents into the tank.
"This incident could have been prevented," CSB chairwoman and CEO Vanessa Allen Sutherland said.
CSB does not issue fines or penalties but investigates chemical spills to determine improvements in safety and other procedures that can be shared with similar facilities across the country. More formal recommendations are expected when the investigation is completed in the fall, Sutherland said. The Environmental Protection Agency and the Occupational Safety and Health Administration are investigating, which could result in fines.
MGP officials said in a statement Wednesday that the company has fully cooperated with the ongoing investigations and is "making every effort to enhance our operations so this type of situation does not happen again."
MGP hired a consulting firm to review its loading, unloading and chemical storage methods, according to the statement. It also has paid for medical treatment and related expenses for 134 people who sought care after the chemical release and is working with city and county first responders to assess emergency response planning, the statement said.