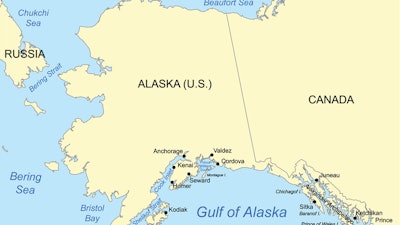 ANCHORAGE, Alaska (AP) — An oil leak has been discovered in Alaska's Cook Inlet, causing a major oil and gas producer to shut down two of its platforms there, officials say.
Hilcorp Alaska LLC workers felt an impact on the company's Anna Platform shortly before noon Saturday, then noticed an oil sheen and bubbling from underwater, according to the Alaska Department of Environmental Conservation.
The spill is on the west side of Cook Inlet, to the southwest of Anchorage. The inlet stretches 180 miles (290 km) from the Gulf of Alaska to Anchorage.
Officials say the leak is from an underwater pipeline that is carrying more than 19,000 gallons of crude oil. In a statement late Sunday afternoon, the Department of Environmental Conservation said the 8-inch-wide pipeline has a maximum capacity of 461 barrels, and the line was at full capacity when the leak started.
The pipeline, which is 75 feet under the surface of Cook Inlet, links the Anna Platform to the Bruce Platform, the department said.
Pressure in the pipeline has been lowered to zero, and the oil in the pipeline is staying there, the department said. The department planned to remove oil from the pipeline on Sunday night.
"I am deeply concerned about the potential impact to the environment," Gov. Bill Walker said in a statement Sunday. "Our Spill Prevention and Response Team has immediately responded, and is keeping me apprised of developments."
Hilcorp, the U.S. Coast Guard and the Department of Environmental Conservation have set up a command post in response to the spill. There are dozens of species of fish, birds and marine mammals likely to be in that area of Cook Inlet, possibly including endangered beluga whales, Steller sea lions and humpback whales.
Natural gas has been leaking from another Hilcorp pipeline in the Cook Inlet since mid-December. The company temporarily shut down production last weekend, reducing the platforms' need for energy and allowing Hilcorp to reduce pressure in the leaking line.
The company said the sea ice is too thick to safely send divers down to fix the leak, so that line has not yet been repaired.
The two leaks are unrelated.
The governor cited the ongoing gas leak in his Sunday statement, noting that is has been less than a week since the temporary shutdown and calling the oil leak "significantly more harmful."