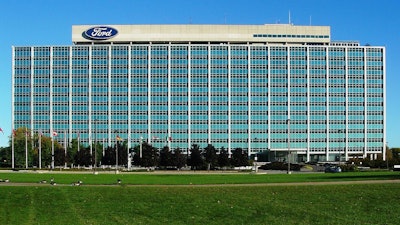 Dave Parker, Wikipedia
DEARBORN, Mich. (AP) — Fire officials in suburban Detroit say Ford Motor Co.'s world headquarters in Dearborn has been evacuated as a precaution due to a fire.
Dearborn Fire Chief Joseph Murray said everything Monday morning was "under control" and "there's no immediate threat to anybody." Officials say the fire was coming from an electrical substation in the building's basement. Ford spokesman Mike Moran says an unknown number of employees were instructed to leave the 12-story building when the smell of smoke was reported.
Moran says the evacuation started about 9 a.m. and the fire was contained and the power shut down as of 10:40 a.m.
The headquarters were built in the 1950s. The company announced earlier this year that it plans a decade-long renovation.