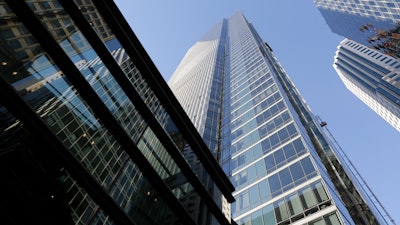 AP Photo/Eric Risberg
SAN FRANCISCO (AP) — Pamela Buttery noticed something peculiar six years ago while practicing golf putting in her 57th-floor apartment at the luxurious Millennium Tower. The ball kept veering to the same corner of her living room.
Those were the first signs for residents of the sleek, mirrored high-rise that something was wrong.
The 58-story building has gained notoriety in recent weeks as the "leaning tower of San Francisco." But it's not just leaning. It's sinking, too. And engineers hired to assess the problem say it shows no immediate sign of stopping.
"What concerns me most is the tilting," says Buttery, 76, a retired real estate developer. "Is it safe to stay here? For how long?"
Completed seven years ago, the tower so far has sunk 16 inches into the soft soil and landfill of San Francisco's crowded financial district. But it's not sinking evenly, which has created a 2-inch tilt at the base — and a roughly 6-inch lean at the top.
By comparison, Italy's famed Leaning Tower of Pisa is leaning more than 16 feet. But in a major earthquake fault zone, the Millennium Tower's structural problems have raised alarm and become the focus of a public scandal.
Several documents involving the downtown building were leaked in recent weeks, including exchanges between the city's Department of Building Inspection and Millennium Partners, the developer. They show both sides knew the building was sinking more than anticipated before it opened in late 2009, but neither made that information public.
In a February 2009 letter, a chief buildings inspector, Raymond Lui, wrote to the tower's engineering firm to express concerns about "larger than expected settlements." He asked what was being done to stop the sinking and if the building's structural safety could be affected.
DeSimone Consulting Engineers replied that the building had already unexpectedly settled 8.3 inches. But the engineering firm concluded, "It is our professional opinion that the structures are safe."
City Supervisor Aaron Peskin, who has convened hearings on the matter at City Hall, asked Lui why the building was then certified safe for occupancy. "We felt they had it under control," replied Lui, now employed in San Francisco's public works department. He did not elaborate.
City officials, owners of the building's high-end apartments, its developers and politicians are arguing over who is to blame. Meanwhile, key questions remain.
"When is this building going to stop sinking?" asks Jerry Dodson, an attorney and engineer who paid $2.1 million in 2009 for his two-bedroom apartment on the 42nd floor. "That's something that no one has been able to answer."
On the sidewalks outside the Millennium Tower, engineers last month started working to figure out why the building keeps sinking and if there's a way to fix it. But the process, which involves drilling deep holes and testing soil samples, is expected to take several months.
The geotechnical engineer leading the operation, Pat Shires, said existing data indicates the tower "might" sink between 24 to 31 inches in total, but nobody knows for sure.
When the Millennium Tower opened, it became a haven for the city's well-heeled, and all 419 apartments quickly sold out. Tenants have included former San Francisco 49er Joe Montana, late venture capitalist Tom Perkins and Giants outfielder Hunter Pence.
The building has a 75-foot indoor lap-pool, a health club and spa, an in-house cinema, and a restaurant and wine bar run by celebrity chef Michael Mina. Penthouses have sold for more than $10 million.
The tower's troubles are apparent in its five-floor underground garage, where Porsches and Lamborghinis sit near walls bearing floor-to-ceiling cracks, many bracketed by stress gauges to measure growth.
Meanwhile, accusations and lawsuits are piling up.
Dodson and other residents blame developers for what they say is a flawed design. The tower's foundation, for instance, uses piles driven 60 to 90 feet into landfill, rather than the pricier option of going down at least 240 feet to bedrock.
Millennium Partners maintains its design is safe and says many San Francisco high-rises have similar foundations.
"We did this building the right way," Chris Jeffries, a founding partner at Millennium Partners, told a news conference. "The building is 100 percent safe."
Jeffries blames the building's problems on an adjacent construction site where a city rail terminal is being built. He says the Transbay Joint Powers Authority, the public agency building the $4.5 billion transit hub, dug a 60-foot hole to create a dry construction site and pumped out millions of gallons of groundwater that wound up compressing and weakening the soil under the Millennium Tower.
Transbay says the tower's "inadequate foundation is the sole cause of the excessive settlement and tilt." It released a statement saying the building had sunk 10 inches and started to lean before the agency broke ground in 2010.
It has continued to sink at a rate of about 1 inch per year.
"We are all living there and wondering about our safety," another resident, Nina Agabian, said at a recent City Hall hearing. "We've been told it's going to take years to solve this, and I don't think we have years."