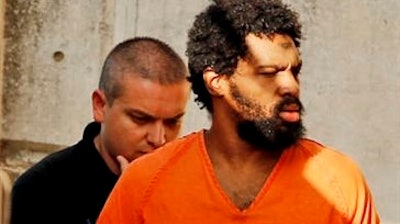 Steve Sisney/The Oklahoman via AP
NORMAN, Okla. (AP) — An Oklahoma judge has delayed a ruling on whether to accept the guilty plea of a man who has admitted beheading a co-worker and says he wants the death penalty.
Cleveland County District Judge Lori Walkley said Friday that she'll rule Wednesday on whether she'll accept the plea from Alton Nolen, 31, of the Oklahoma City suburb of Moore.
Nolen pleaded guilty in May to first-degree murder for beheading Colleen Hufford, 54, inside the Vaughan Foods plant in Moore on Sept. 25, 2014, shortly after he was suspended for making racial remarks. He has said he wants to die by lethal injection.
Walkley is deciding whether Nolen is mentally competent to plead guilty and waive his right to a jury trial.
Neuropsychologist Antoinette McGarrahan, testifying for the defense, said Nolen is schizophrenic.
"He has lost touch with reality. It has gone to that extreme," McGarrahan said. "He can't think rationally because he firmly believes he is being held captive, and we are all evil and the devil."
A prosecution psychologist, however, described Nolen's behavior as simply his personality. Shawn Roberson, who has examined Nolen twice, testified that Nolen did not act paranoid during their time together.
"He is able to engage in a coherent conversation," Roberson said. "I just think he's uncooperative."
Prosecutors have said in court documents that Nolen "justified his actions based on his reading of the Quran and stated that he would do the same thing again to anyone who oppressed him."
Robert Hunt, a Southern Methodist University professor considered an expert on Islamic beliefs, testified for the defense that Nolen, a Muslim convert, developed ideas about being a Muslim that are irrational, contradictory and not in keeping with normal Islamic teachings or the ideology of the Islamic State, also known as ISIS.
Hunt said Nolen would not agree to an interview in the jail, called him a "white heathen" and walked out.
"He appears to be living in a fantasy world," the professor said.