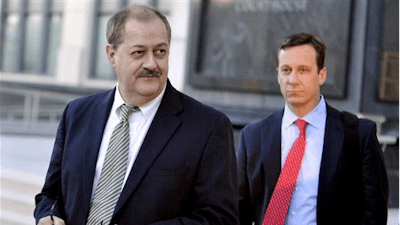 AP Photo/Chris Tilley, File
CHARLESTON, W.Va. (AP) — Coal industry groups from three states are arguing that the conviction of former coal executive Don Blankenship could unfairly expose other industry leaders to criminal conspiracy charges.
The Illinois, Ohio and West Virginia Coal Associations shared their concerns in a brief Tuesday with the 4th U.S. Circuit Court of Appeals, which is considering Blankenship's appeal.
We "cannot sit idly by and allow the expansion of criminal law to the point that mere involvement of company management in certain affairs can serve as a basis, in whole or in part, for criminal prosecution," they wrote.
The coal groups insist they aren't taking sides in Blankenship's case — that they don't endorse or sanction his conduct, and don't support overturning the conviction of Massey Energy's divisive and controversial former chief executive.
Blankenship began serving a year in federal prison in May for conspiring to willfully violate mine safety standards at West Virginia's Upper Big Branch coal mine, which exploded in 2010, killing 29 men.
The coal associations say they're concerned that after this case, safety citations could be used to hold anyone at a coal company liable for criminal conspiracy to violate federal mine safety laws.
The coal associations contend that to prove a violation of federal mine safety laws is "willful," there must be evidence that it was done for a "bad purpose" and with knowledge aforethought that the action was illegal.
The district judge told jurors that "a defendant enters into a conspiracy knowingly and willfully if he joins and participates in the conspiracy with knowledge of and the intent to further its unlawful object."
Coal executives worry this sets a precedent that could leave more coal operators at risk because safety citations occur frequently in coal mining and their operators are required to respond to them.
"Those decisions, especially with respect to production, safety, and regulatory compliance, may at times be imperfect, prone to second-guessing, and, despite the best intentions, even incorrect. However, those decisions should not lead to criminal liability unless it is proven beyond a reasonable doubt that the individual possessed the 'evil purpose' necessary to establish that the conduct was illegal, not just general knowledge of the effects of broad regulatory involvement," their brief says.
Blankenship's defense attorneys made similar arguments in their appeal.
During the trial, prosecutors called Blankenship a bullish micromanager who meddled in the smallest details of the Upper Big Branch mine. They also said Massey's safety programs were just a facade — never backed by the money needed to hire additional miners or take more time on safety tasks.