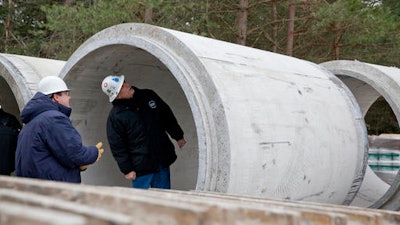 Michelle Tessier/The Flint Journal via AP, File
FLINT, Michigan (AP) — Michigan's attorney general filed a civil lawsuit Wednesday against two water engineering companies, saying their negligence caused and exacerbated Flint's lead-tainted water crisis and demanding what could total hundreds of millions of dollars in damages.
Veolia and Lockwood, Andrews & Newnam, also known as LAN, were sued in Genesee County Circuit Court. The firms already are facing suits from Flint residents over the disaster, in which improperly treated water from the Flint River scraped toxic lead from pipes into tap water.
Houston-based LAN — whose Flint office in 2013 and 2014 helped the city of nearly 100,000 switch to the Flint River as its primary water supply after decades of buying treated water from Detroit — was accused of professional negligence and public nuisance.
Veolia, a French multinational corporation with U.S. offices, faces the same allegations along with a fraud count.
Veolia was hired in 2015 after Flint began encountering numerous water problems but, according to the suit, it and LAN didn't detect the lack of a corrosion control chemical and instead recommended the addition of a chloride that made the problem worse.
"In Flint, Veolia and LAN were hired to do a job and failed miserably," Attorney General Bill Schuette said at a news conference in Flint. "They basically botched it, didn't stop the water in Flint from being poisoned. They made it worse."
In a statement, Veolia North America said it "will vigorously defend itself against these unwarranted allegations of wrongdoing." It noted that a task force appointed by Gov. Rick Snyder largely blamed the state for the emergency and did not even mention the company or assign it any blame.
"The Attorney General has not talked to Veolia about its involvement in Flint, interviewed the company's technical experts or asked any questions about our one-time, one-month contract with Flint," Veolia said in a statement. "Veolia's engagement with the city was wholly unrelated to the current lead issues."
LAN spokesman Tim Coffey said Schuette "blatantly mischaracterized" the company's role. The decision to not add corrosion controls was made by the city and state regulators, not LAN, according to the company, which said it had regularly pushed for corrosion control.
Snyder has apologized for regulatory failures while the poverty-stricken city was under state financial management and began drawing its drinking water from the local river in a cost-cutting move. The Michigan Department of Environmental Quality told the city that it was not required to add an anti-corrosion chemical until after a year of testing.
Lead from old pipes leached into homes and businesses, leading to a public health emergency. There also were earlier E. coli detections; resident complaints about color, odor and taste; and high levels of a disinfectant byproduct. A General Motors plant had stopped using the water just six months after the 2014 switch because it was rusting engine parts, and experts suspect a deadly Legionnaires' disease outbreak was tied to the water.
Flint returned to the Detroit water system in October.
Criminal charges have already been filed against two state environmental officials, while Flint's utilities administrator pledged cooperation in exchange for reduced charges.
Once Snyder signs budget legislation, Michigan will have allocated at least $240 million to resolve the water crisis in Flint.
Noah Hall, a special assistant attorney general on Schuette's investigatory team, said the investigators "can't get the lead out of kids' blood." But they can hold accountable those responsible and collect money so "the people of Michigan and the state of Michigan can provide the kind of services needed to help this community recover from the devastating impacts of lead poisoning," he said.
Legal damages could be used in part to replace thousands of lead service lines and pipes, according to the suit.
Schuette on Wednesday again promised additional criminal charges, saying some will be filed "soon." Special Counsel Todd Flood acknowledged difficulty obtaining documents and other information from agencies, including the governor's office, but he pledged to go to court to get them if needed.
Snyder spokeswoman Anna Heaton said lawyers in the attorney general's office have produced hundreds of thousands of documents from the governor's office and state departments for Flood, and "we will continue cooperating fully with all investigations, as we have from the beginning."