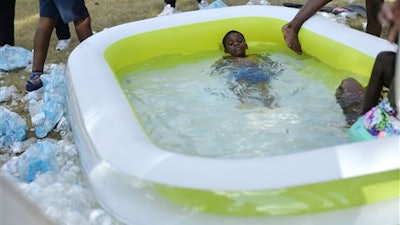 Rachel Woolf/The Flint Journal-MLive.com via AP
LANSING, Mich. (AP) — Michigan's attorney general on Tuesday asked to spend $3.4 million more on a criminal and civil probe into Flint's water crisis, which would more than triple the funding for his team of nearly two dozen outside lawyers and investigators.
For nearly 18 months, the impoverished, predominantly black city of nearly 100,000 residents used the Flint River as a way to save money, a decision that was made while under state emergency management. But lead was released from aging pipes and fixtures as improperly treated river water flowed into homes and businesses, and elevated levels of the toxin were discovered in children in Flint, which is about 55 miles north of Detroit
Independent experts have also suggested a link between the river and a deadly Legionnaires' disease outbreak.
The State Administrative Board's Finance and Claims Committee on Tuesday endorsed the $4.9 million contract on a 3-0 vote, with no debate in a quick meeting. The full seven-member board, which also typically automatically OKs contracts before it, on July 12 will consider Attorney General Bill Schuette's request, which also would extend the no-bid contract's length by two months through September 2017.
In March, the board authorized $1.25 million in spending for special counsel Todd Flood, 11 other lawyers, 10 investigators and a separate computer system. Schuette did not need approval of an initial $249,000 contract because it was below the threshold requiring board approval.
The funding endorsed Tuesday is more than triple that original $1.5 million contract.
Schuette, who has filed criminal charges against three government employees and sued two water engineering companies for potentially hundreds of millions of dollars over the crisis, has guaranteed the filing of additional charges.
"You're not going to do justice on the cheap," he told reporters. "The amount of money that we are expending to provide justice and truth and accountability is very small compared to the harm ... that people have experienced."
Gov. Rick Snyder, who has apologized for his administration's role in the public health emergency, is expected to soon sign budget legislation that includes $3.9 million for Schuette's Flint-related expenses.
The measure also has $11 million more this fiscal year for Snyder and the attorney general to defend lawsuits filed against them in their official capacity and to secure outside legal advice — or $16 million altogether, triple the $5 million normally allocated.
The state was assessed most of the blame for the crisis by the Republican governor's own task force and is facing numerous suits.
Schuette said the fact that residents were complaining about the water's color, smell and taste should have been a "red alert" and "DEFCON 1" for "anyone with direct, specific authority."
"Whether it's negligence or criminal conduct, we'll hold them accountable," said Schuette, who opened the probe in January after initially declining to investigate. He said Tuesday that he reversed course after receiving more information from media reports.
Once Snyder signs the budget bill, Michigan will have directed at least $240 million toward resolving the emergency.
Experts say filtered tap water is safe for everyone in Flint. Efforts to replace thousands of lead or galvanized services lines have been slow.
___