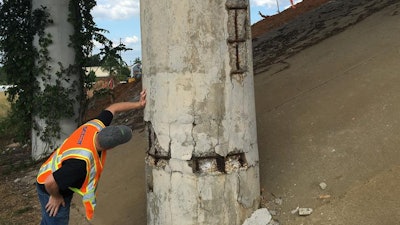 SCDOT
GREENVILLE, S.C. (AP) — The bridge carrying traffic from Interstate 85 north to Interstate 385 north heading toward downtown Greenville will remain closed to trucks for at least a week.
The South Carolina Department of Transportation said engineers working on a project to improve the interchange discovered a crumbling support on the bridge and closed it to all traffic Saturday. After further review, engineers decided cars, but not tractor trailers, could use the bridge until repairs are made.
DOT spokesman Pete Poore says material for the repairs are arriving Monday and it should take a week to fix the bridge.
DOT has just started a $231 million project to redesign the interchange scheduled to finish by the end of 2018. Poore says the bridge will be replaced during that project.