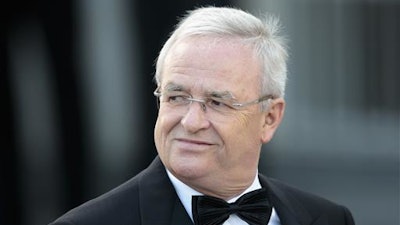 AP Photo/Markus Schreiber
BERLIN (AP) — German prosecutors have opened an investigation of former Volkswagen CEO Martin Winterkorn and another unnamed executive on allegations they didn't inform investors soon enough about the company's scandal over cars rigged to cheat on U.S. diesel emissions tests.
The Braunschweig prosecutor's spokesman, Matthias Diekman, said in a statement Monday that Winterkorn and one other employee are being investigated on allegations they did not release information about the manipulation in a timely manner.
They opened the investigation at the behest of Germany's Federal Financial Supervisory Authority, the country's financial watchdog.
The news release said that the second employee was not the current board of directors' chairman, Hans Dieter Poetsch. Poetsch was chief financial officer under Winterkorn but has since left that post.
German stock market law requires publicly traded companies to alert investors as soon as they have unforeseen developments that could affect a decision to buy or sell the stock. Prosecutors said that Volkswagen only made that notification on Sept. 22, and that there was evidence that the disclosure obligation should have been fulfilled earlier.
Volkswagen did not answer telephone calls seeking comment. The company has already said in response to an investor lawsuit, however, that it met its disclosure obligation.
Winterkorn stepped down as the scandal came to light, saying he was doing so "in the interests of the company even though I am not aware of any wrongdoing on my part."