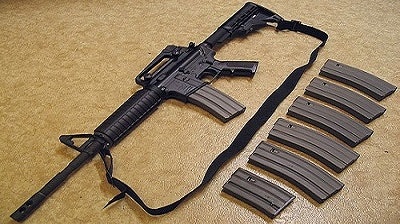 HARTFORD, Conn. (AP) — A judge will hear arguments on whether to dismiss a lawsuit against the maker of the semiautomatic rifle used to kill 20 children and six adults in the 2012 Sandy Hook Elementary School massacre— a weapon similar to the one used this month in the shooting at a Florida nightclub.
The families of nine children and adults killed at the Newtown school and a teacher who survived are suing Remington Arms, the Madison, North Carolina-based parent company of Bushmaster Firearms, which made the XM15-E2S rifle used in the shooting. They say the company knew its AR-15-style rifle was meant for the military and was too dangerous to sell to civilians.
Bridgeport Superior Court Judge Barbara Bellis, who rejected a similar request by Remington to dismiss the lawsuit in April, is scheduled to hear arguments Monday morning. Debate over whether AR-15-style rifles should be legal has intensified following the shooting at a gay nightclub in Orlando by a gunman with a similar rifle, made by Sig Sauer, that left 49 people dead and dozens of others injured.
Although the Orlando shooting probably won't be admissible in the Connecticut case, it likely will be on the minds of jurors in a potential trial, said W. John Thomas, a law professor at Quinnipiac University. AR-15-style rifles have been used in other mass shootings. In Newtown, gunman Adam Lanza used a Bushmaster rifle legally purchased by his mother to kill the 26 victims. He killed his mother before going to the school, where he fatally shot himself as police arrived.
Lawyers for Remington continue to argue the lawsuit is barred by a 2005 federal law, the Protection of Lawful Commerce in Arms Act, which shields gun manufacturers from most lawsuits over criminal use of their products. The Remington attorneys disagree with the victims' families' lawyers, who say an exemption in the federal law allows litigation against companies that know, or should know, that their weapons are likely to be used in a way that risks injury to others.
The families' lawsuit alleges Remington violated the Connecticut Unfair Trade Practices Act and the common law of "negligent entrustment," which was designed for cases such as when a gun store sells to someone who is obviously intoxicated and threatening to kill someone. In addition to Remington Arms, the defendants also include Camfour, a firearm distributor, and Riverview Gun Sales, the now-closed East Windsor store where Lanza's mother, Nancy Lanza, purchased the Bushmaster rifle in 2010.