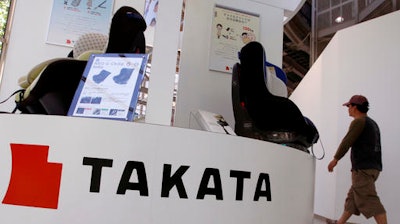 TOKYO (AP) — Japanese automaker Honda is recalling 784,000 vehicles in Japan due to faulty Takata Corp. air bag inflators for front passenger seats.
The recall, announced by Honda Motor Co. on Thursday, is the latest of many such recalls over inflators that may explode with too much force.
This recall covers the Odyssey minivan, Accord sedan, Clarity fuel cell and other models.
The Tokyo-based manufacturer said the recall was in response to a recent decision by the Japanese government, which followed one last month by the U.S. National Highway Traffic Safety Administration, in which Takata agreed to add up to 40 million air bag inflators to an already massive recall.
Takata has not been able to produce enough replacement parts to keep up with the recalls, which may balloon to more than 100 million globally.
The expanded recall mainly covers inflators in front passenger air bags that do not have a chemical drying agent known as a desiccant.
The inflators are responsible for at least 11 deaths worldwide and more than 100 injuries.
Authorities in Malaysia have begun an investigation into two more recent deaths in cars with Takata air bags that ruptured.