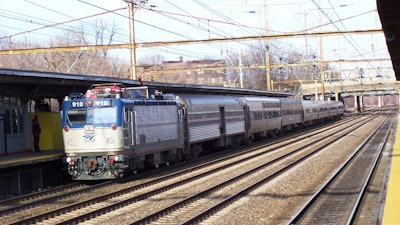 NEWARK, N.J. (AP) — Lengthy environmental studies could increase the likelihood that the 106-year-old rail tunnel between New Jersey and New York City would have to close for repairs before a new tunnel is built, a situation one lawmaker has referred to previously as a "transportation armageddon," a study released Monday said.
The study by Common Good, a nonpartisan group whose mission is to "simplify government," said there is a 25 percent chance one of the existing two tunnel tubes under the Hudson River would need to be shut down by 2023 — three years before the new tunnel's project completion date, assuming environmental work is done in 2019. That chance rises to 75 percent if the environmental process takes additional two to four years, the report said.
The tunnel suffered saltwater damage from Superstorm Sandy in 2012 that has contributed to electrical and other problems, according to officials from Amtrak, which owns the tunnel. They also have admitted the full extent of the damage is unknown. In 2014, Amtrak CEO Joseph Boardman said the tubes would have to shut down for repairs in less than 20 years, but wasn't more specific.
Last summer, after tunnel problems caused widespread delays four times in one week, Stephen Gardner, Amtrak's vice president of Northeast Corridor infrastructure investment, told New Jersey lawmakers to expect more of the same until a new tunnel is built. Shutting down one tube for a year or more for repairs would cut peak rail service between New Jersey and New York by 75 percent and could lead to what Sen. Charles Schumer, D-N.Y., described last summer as "transportation armageddon."
"Our view is the environmental review could be done in a matter of a few months, not a few years," said Philip K. Howard, the report's author and Common Good's chairman. "It's evolved over the years to be this kind of 'no-pebble-left-unturned,' hand-wringing process."
Through spokespeople, Amtrak and New Jersey Transit, two of the tunnel project's major stakeholders, defended the pace of the process Monday and said they are following federal guidelines. Amtrak spokesman Craig Schulz noted that a recent notice filed by the Federal Railroad Administration, the agency overseeing the environmental review, estimated it will take two years.
"The environmental review process required to construct a new Hudson River Tunnel and rehabilitate the existing one — a critical component of the broader Gateway Program — has officially begun," Schulz said. "The partners are committed to an aggressive 24-month schedule and welcome opportunities to further streamline the process where it is realistic and appropriate to do so."
In March, U.S. Transportation Secretary Anthony Foxx announced his department would accelerate environmental reviews and permitting to push the project forward. Howard said Monday that although the environmental review could take two years, various permitting issues could take another year.
The tunnel is one component of the estimated $24 billion Gateway project, which includes an expanded Penn Station in New York and infrastructure improvements in New Jersey. The project is seen as critical in a region in which hundreds of thousands of people ride trains daily between Washington, D.C., and Boston.
New Jersey Transit, whose commuter trains make up the bulk of traffic through tunnel, is managing the environmental review process under the oversight of the FRA. "We have performed prior environmental analyses and have always maintained their schedules," NJ Transit spokeswoman Nancy Snyder said Monday.