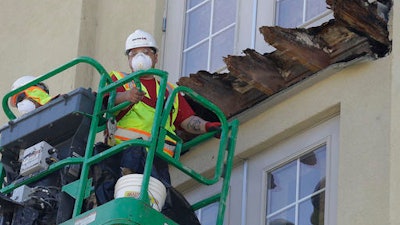 AP Photo/Jeff Chiu, File
SACRAMENTO, Calif. (AP) — Five companies involved in the construction of a Berkeley apartment building where six college students were killed when a balcony collapsed performed inferior work that led to the accident last year, the board that licenses California building contractors concluded Friday.
The firms implicated by the California State Contractor's Licensing Board include the general contractor on the Library Gardens project, the subcontractors that did framing, plastering and waterproofing work, and a supplier of ventilation equipment, The East Bay Times reported.
The board's nine-month investigation found that poor workmanship allowed water to seep under the balcony's concrete floor and eventually rot the wooden beams that held it up, Enforcement Chief Dave Fogt said.
"They didn't do the work to trade standards," Fogt, told the Times.
The students, six of them Irish citizens working in the San Francisco Bay Area for the summer, were thrown 50 feet to the ground when the balcony gave way during a late night birthday party last June. Another seven students were seriously injured.
An administrative hearing will be held to determine if the companies should have their licenses revoked. California law allows the state to suspend or revoke the licenses of builders that knowingly depart from approved architectural plans or do substandard work, according to the board.
The five companies are: general contractor Segue Construction, Etter and Sons Construction, North State Plastering, R. Brothers Waterproofing and The Energy Store of California in Sacramento.
In November, families of those killed and injured filed lawsuits seeking unspecified damages from dozens of companies, including the same five cited by the state board and the building's owner.
Local prosecutors spent months doing their own investigation and found that the dry rot that caused the balcony failure resulted from the materials used and inadequate efforts to safeguard them from rain when Library Gardens was built nine years ago.
Alameda County District Attorney Nancy O'Malley said last week that she had decided not to pursue criminal charges in the fatal collapse and that responsibility likely extended to parties involved in both the building's construction and maintenance.