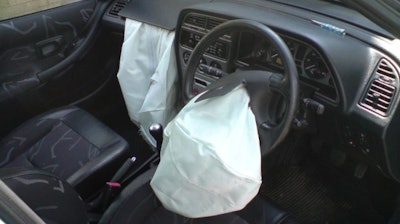 A family car owned by the nation's top auto safety regulator's family has been recalled to fix a faulty Takata air bag, but like millions of others, he's waiting for parts to make the repair.
National Highway Traffic Safety Administration chief Mark Rosekind said Wednesday that a car normally driven by his wife was recalled to fix an air bag inflator. When she checked the vehicle identification number in a recall database, she found there were no replacement inflators available, Rosekind said after an autonomous-car conference in Dearborn, Michigan.
Takata inflators can explode with too much force and spew shrapnel at drivers and passengers. They're responsible for at least 10 deaths worldwide and more than 100 injuries. So far 14 automakers have recalled 24 million U.S. vehicles with Takata inflators in what is now the largest auto recall in the country's history. About 7.1 million inflators have been replaced, and NHTSA has said the recalls almost certainly will grow larger.
Rosekind wouldn't identify the type of car, but he said the family is fortunate to have another vehicle for his wife to drive in California, where she lives. The agency has taken over management of the recalls and is sending replacement parts to older vehicles and to those in high-humidity areas along the Gulf Coast.
Takata uses the chemical ammonium nitrate to create a small explosion and fill the air bags in a crash. But tests have shown that the chemical can deteriorate over time when exposed to high temperatures and humidity.
The recall has helped him know what people are going through trying to get the cars fixed and facing potential danger from the inflators, Rosekind said. The family has been working with a dealership that it has used with for a long time and is seeking a loaner car, he said.
"I now have that personal experience to be able to deal with it and see how we can push," he said. "It is a source of information that probably typically is not available to an administrator facing something like this."
Rosekind said he's not getting special treatment, though, and the car is going to be fixed at the "appropriate time."