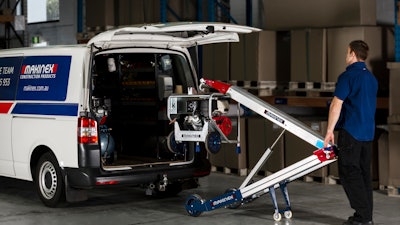 According to Makinex (Redondo Beach, CA), the Powered Hand Truck PHT-140 is a universal materials handling solution that enables one-person operation to safely lift and load small equipment or bulky goods weighing up to 309lbs. It provides a quick and easy alternative to using a forklift or tailgate loader for small loads. The Makinex Powered Hand Truck has many applications and can be used in workshops, warehouses, factories, depots, distribution companies and hire and rental yards. Features include:
Powered lift via a 12V 25 Amp linear actuator. It is easy to operate – the lifting arm reach is controlled by the user lifting or lowering the handles and arm height is controlled via a simple thumb switch.

A unique design, which enables one-person operation to lift and load directly into vehicles (trucks, vans, utility vehicles and cars) or to place equipment and small loads on bench tops. It eliminates awkward and dangerous one or two-person lifts, and reduces the incidence of back and other injuries caused by heavy lifting.

A light weight and easy to maneuver design. After use it can be folded down flat for easy transport and storage.
A standard Hook attachment for lifting, moving and loading small equipment and machinery fitted with a lifting eye, e.g. water pumps, generators, air compressors, plate compactors etc.
Long lift cycles, and the battery recharges in 3 hours.
A 12-month warranty.
www.makinex.com; 855-625-4639