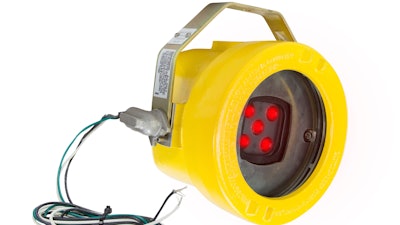 Larson Electronics (Kemp, TX) has announced the release of a 25-watt red LED crane light designed to expand safety measures in hazardous work areas by actively providing early notifications for nearby workers and pedestrians. The EPL-TN-CRN-RED red LED warning light from Larson Electronics is an explosion proof light that produces 2,250 lumens of sharp red light, while drawing only 2.09 amps from a 12-volt electrical system. This LED spotlight is designed to be mounted on the front or back of a crane or other heavy machinery to warn pedestrians and bystanders when in the path of oncoming machinery. Five, five-watt red LEDs producing 450 lumens each are combined with high output parabolic reflectors to produce a narrow five degree spread spot beam, providing a high intensity center beam that is visible at night and during the day. Other features include:
The ability to operate in temperatures ranging between -40°C and 80°C.
Waterproof (up to one meter) and resistant to the ingress of dust, dirt, and humidity.
An extruded aluminum housing, and a lens constructed of unbreakable polycarbonate. The light is enclosed in a Class 1 Division 1 casing constructed of copper-free aluminum with a thermoset powder coat finish.
www.Larsonelectronics.com; 800-369-6671