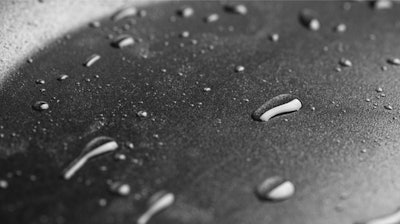 WASHINGTON (AP) — Long-term exposure to a chemical compound currently used for making nonstick coatings appears to be dangerous, even in minute amounts, according to draft findings released Wednesday by the Environmental Protection Agency.
It was the first time EPA weighed in on newer, supposedly safer versions of an increasingly scrutinized family of stick- and stain-resistant compounds. Older versions of the compound are turning up in dangerous levels in drinking water supplies around the country.
Drinking water contamination has been the main concern cited by public health officials and regulators in connection with the compounds, perfluoroalkyl and polyfluoroalyl substances, or PFAS.
The EPA findings said animal studies show the so-called GenX nonstick compound has the potential of affecting the kidneys, blood, immune system, liver and developing fetuses following oral exposure. "The data are suggestive of cancer," the draft report said.
"Toxicity is only one piece of information that public officials consider when determining whether there is a risk to public health," the report said. "Other factors, such as exposure, must also be considered."
Lee Ferguson, an environmental analytical chemist and associate professor at Duke University, said those findings would mean "the compounds that we're replacing toxic compounds for are also toxic."
Concern over GenX, used in Teflon and other materials, has been strongest in North Carolina. Authorities have found it in water supplies serving hundreds of thousands of people downstream of a Chemours Co. plant that makes it outside Fayetteville.
Wednesday's draft findings suggest chronic exposure to GenX is dangerous at levels as low as a few hundred parts per trillion, Ferguson said. Two older versions from the same family of compounds — taken out of manufacturing in the United States — have been found to be dangerous at less than a hundred parts per trillion.
PFAS are used in nonstick coatings on things ranging from pans to fast-food wrappers, as well as firefighting foam. Federal toxicology officials determined recently that the two phased-out versions of the compound are dangerous at levels far lower than previously known. An unidentified White House official in an email released through open-records laws called that finding a "potential public relations nightmare" earlier this year.
Chemours media representatives didn't immediately respond to a phone call and email seeking comment on the EPA report.
U.S. Rep. Richard Hudson, a Republican whose district stretches into the Fayetteville area, said he looks forward to the completion of a pending EPA management plan that the agency says will help guide state and local governments.
"I encourage swift action to help the state better understand what we need to do going forward to keep our water clean and keep our citizens safe," he said in a news release.
In one of the North Carolina areas dealing with GenX contamination, New Hanover County public health director Phillip Tarte said he was reviewing the report, calling it an important step.
There are no federal health standards for GenX. The EPA classifies it as an "emerging contaminant" needing research.
The chemical is related to other fluorinated chemicals including PFOA, which has been blamed for causing health problems. In February 2017, Chemours and DuPont — which spun off Chemours two years ago — agreed to pay nearly $671 million to settle thousands of lawsuits related to the release of PFOA from a Parkersburg, West Virginia, plant more than a decade ago.
The EPA held a series of hearings on the contaminants earlier in the year. State and local officials and others used the hearings to urge the agency to take the lead in regulating the compounds.
Acting EPA Administrator Andrew Wheeler said in a statement Wednesday that the "EPA is delivering on its commitment to provide our state and local partners the tools and information they need to address PFAS."
The EPA will now seek 60 days of public comment on its findings.