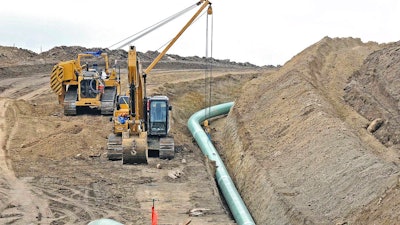 Tom Stromme/The Bismarck Tribune via AP, File
BISMARCK, N.D. (AP) — The Standing Rock Sioux is challenging new government conclusions that the $3.8 billion Dakota Access oil pipeline poses no significant environmental threats to American Indian tribes in the Dakotas.
The Army Corps of Engineers in August finished more than a year of additional study ordered by a federal judge. The agency said the work substantiated its earlier determination that the chances of an oil spill are low, any impacts to tribal hunting and fishing will be limited and that the project does not pose a higher risk of adverse impacts to minority and low-income people.
The Standing Rock Sioux tribe, which is leading a four-tribe lawsuit against the four-state pipeline built by Texas-based Energy Transfer Partners, in court documents filed Thursday asked a federal judge to reject the findings.
"The corps has conducted a sham process to arrive at a sham conclusion, for the second time," tribal Chairman Mike Faith said in a statement.
The pipeline has the capacity to move half of the oil produced daily in North Dakota, the nation's second-leading producer behind Texas. It passes just north of the Standing Rock Reservation, beneath a Missouri River reservoir that is the tribe's water source.
The pipeline has been moving North Dakota oil through South Dakota and Iowa to a shipping point in Illinois since June 2017. That same month, U.S. District Judge James Boasberg ruled that the Corps largely complied with environmental law when permitting the pipeline but needed to do more study of its impact to tribal rights. The Corps filed its work with the court in late August.
Standing Rock's challenge says the Corps "failed to grapple with extensive technical input provided by the tribe and others undermining its conclusions." The major example the tribe offered is information it says shows the Corps has underestimated the risk and impact of an oil spill.
The tribe continues to maintain that the only lawful way to resolve the matter would be through a full environmental study that includes consideration of route alternatives.
The Corps had planned to do a more extensive environmental study before President Donald Trump took office in January 2017 and pushed through completion of the stalled project. The agency said in court documents in August that the additional study concluded a more thorough review is unwarranted. The tribe asks Boasberg to reject that conclusion.