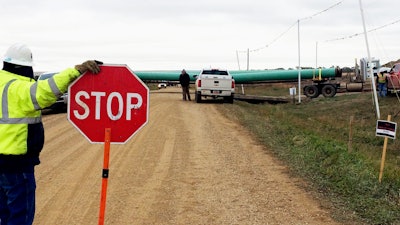 AP Photo/Blake Nicholson
BISMARCK, N.D. (AP) — The company building the four-state $3.8 billion Dakota Access oil pipeline is fighting North Dakota regulators' efforts to fine it a few thousand dollars.
The Public Service Commission maintains that Dakota Access LLC, a subsidiary of Dallas-based Energy Transfer Partners, failed to get its approval before proceeding with construction on the pipeline on private land after Native American artifacts were found along the route in southern North Dakota in October.
The artifacts weren't disturbed during construction, and the company disputes it did anything wrong. It asked the PSC on Nov. 30 to dismiss the complaint.
"There is nothing to suggest Dakota Access has not been acting in good faith," company attorney Lawrence Bender said in the motion.
Commission Chairwoman Julie Fedorchak declined comment Wednesday, citing the active case.
The 1,200-mile pipeline is to carry North Dakota oil to a shipping point in Illinois. It is mostly finished, though construction under a Missouri River reservoir is on hold. The Standing Rock Sioux tribe and its supporters have protested the project for months, maintaining it threatens drinking water and also cultural sites. ETP disputes that.
Crews diverted construction in October so the artifacts weren't disturbed — a plan with which the State Historic Preservation Office concurred. North Dakota chief archaeologist Paul Picha has told The Associated Press that the site was properly handled.
The PSC contends the company also should have asked it for clearance because it regulates pipelines in the state. The commission filed a complaint Nov. 7 calling for a fine of at least $15,000.
ETP asserts that under state law there needs to be a willful violation of PSC orders — something it was not accused of doing and did not do.
Fedorchak was critical of the company during a Nov. 2 PSC meeting, saying she was "extremely disappointed" that the company didn't follow the proper procedure after the artifacts were found. The company's motion quotes some of Fedorchak's public comments, and counters that "the commission does not have carte blanche to impose penalties or fines for actions the commission merely finds 'disappointing.'"
The PSC will decide whether to grant the company's motion to dismiss the case or schedule a hearing before an administrative law judge.