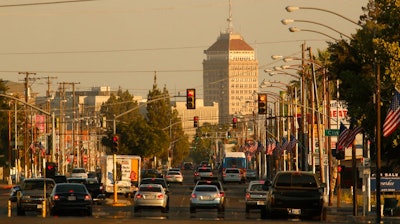 AP Photo/Gary Kazanjian, File
FRESNO, Calif. (AP) — Doctors, environmental groups and California officials will weigh in on the Trump administration's proposal to roll back car-mileage standards at what could be a raucous hearing in a region with some of the nation's worst air pollution.
The daylong session in Fresno on Monday is the first of three events by the U.S. Environmental Protection Agency and National Highway Traffic Safety Administration to gather public comment on the mileage plan. The proposal announced in August would freeze U.S. mileage standards at levels mandated by the Obama administration for 2020 instead of continuing to rise to 36 miles per gallon by 2025, 10 miles per gallon higher than the current requirement.
Administration officials say waiving the tougher fuel efficiency requirements would make vehicles more affordable, which would get safer vehicles into consumers' hands more quickly.
Opponents say it would undercut efforts to reduce unhealthy tailpipe emissions that are a significant contributor to climate change. Environmental groups plan to hold a protest outside the hall where the hearing will take place.
California, where some areas are experiencing the worst smog in decades, cannot afford to "turn back the clock" on its efforts to fight air pollution, California Attorney General Xavier Becerra said on a conference call with reporters Friday. Becerra is expected to testify at Monday's hearing along with Mary Nichols, chairwoman of the California Air Resources Board.
"This is existential for California," Becerra said. "Failure is not an option for us."
California and other states have filed a lawsuit to block any changes to the fuel efficiency rules. The administration also wants to revoke California's authority to set its own mileage standards.
A representative from The Association of Global Automakers — a trade group that represents the U.S. operations of foreign carmakers — will also testify, spokeswoman Annemarie Pender said. The group said in a statement when the proposal was announced that California and the Trump administration should negotiate a "common sense solution that that sets continued increases in vehicle efficiency standards while also meeting the needs of America's drivers."
The hearing is taking place in the San Joaquin Valley, the country's most productive agricultural region but an area that is plagued by sooty air in part because of its bowl-shaped geography. The Sierra Nevada and two other mountain ranges wall in the 250-mile-long (400-kilometer-long) valley.
The air pollution there is blamed for hundreds of deaths each year.
The Obama administration had planned to keep toughening fuel requirements through 2026, saying the stricter standards would save lives.
Trump administration officials argued they would raise the price of vehicles by an average of more than $2,000, preventing many people from buying newer, safer and cleaner vehicles. Transportation experts have challenged those arguments.
Hearings are also planned on Tuesday in Dearborn, Michigan, and Wednesday in Pittsburgh.