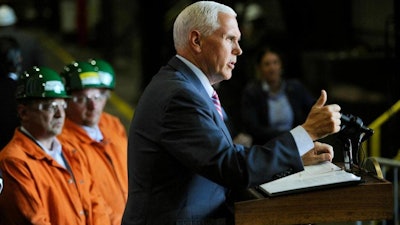 AP Photo/Adrian Kraus
SYRACUSE, N.Y. (AP) — Vice President Mike Pence said Tuesday he doesn't want to see children taken from their parents at the U.S.-Mexico border but repeated the administration's position that "loopholes" in immigration laws are to blame.
"The truth is our weak immigration laws have had dire consequences," Pence said at an upstate New York steel plant he toured while in the area for a Republican fundraiser.
"President Trump and I will continue to work tirelessly to close these crippling loopholes, to build a wall to secure our border and to solve the crisis of illegal immigration once and for all," the vice president said at the Nucor Steel plant in Auburn before shifting his focus to praise for Republican President Donald Trump's tax and trade policies.
Earlier, a crowd protesting the administration's separation of immigrant children at the border booed and beat drums as the vice president's caravan arrived at the fundraiser for Congressman John Katko. A much smaller group of Trump supporters also gathered.
Hundreds of protesters Tuesday evening streamed into a Philadelphia park across from a hotel where Pence was scheduled to speak at a fundraising dinner for the Republican Governors Association.
Nearly 2,000 migrant children have been separated from their families in recent weeks under a zero-tolerance policy where everyone caught crossing illegally is prosecuted.
Democratic Gov. Andrew Cuomo marked the vice president's visit to New York with an open letter to Pence warning of the policy's potential to cause psychological harm and a promise to sue to stop it.
"This policy makes it very clear you have forgotten what made America great," Cuomo wrote. Later Tuesday, he announced the state will sue the federal government, claiming the children were taken from their parents without due process under federal and state laws.
Pence said current law limits how the administration can address people who enter the country illegally.
"That's why President Trump again today called on the Congress to pass immigration reform," he said.