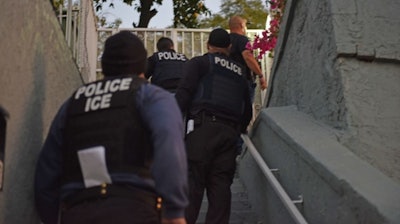 SALEM, Ohio (AP) — U.S. immigration agents have arrested more than 100 workers at an Ohio meat packing plant, the second large-scale raid in the state within the past two weeks.
Immigration officials say the arrests on Tuesday came after a year-long investigation into whether the company knowingly hired people who are in the country illegally.
The arrests happened at Fresh Mark's meat processing plant in Salem in northeastern Ohio.
U.S. Immigration and Customs Enforcement says it also carried out search warrants at the company's three other locations in Canton and Massillon.
A message seeking comment was left with the company Wednesday.
Two weeks ago, immigration agents arrested 114 people at a landscaping center in Ohio. The raids are part of the Trump administration's growing immigration crackdowns.