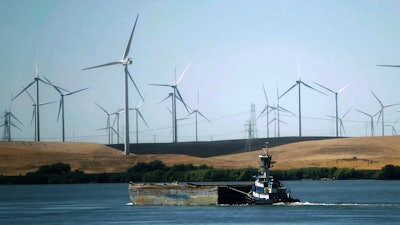 AP Photo/Rich Pedroncelli, File
SACRAMENTO, Calif. (AP) — A contentious proposal to link oversight of California's electric grid with other western states faces a crucial test Tuesday in a state Senate committee.
Supporters say regionalizing the grid would make it easier and cheaper to deploy renewable energy across the western United States. But critics, including some environmentalists and consumer advocates, say California would jeopardize its efforts to require the expansion of renewables.
California has greatly expanded the use of renewable energy sources, particularly wind and solar, but that's brought new challenges for grid operators to manage supply and demand as weather patterns and sunlight vary.
Proponents of a regional grid say improving cooperation across the western United States would make it easier to use renewable resources from other states to meet demand in California, and vice versa.
But critics say that same infrastructure could be used to boost demand for natural gas or coal power produced elsewhere.
The refined measure, AB813, proposes transitioning the California Independent System Operator, which is overseen by a governor-appointed board, to a regional group comprised of appointees from the states that join.
Regionalizing the grid has powerful backing from Gov. Jerry Brown, national environmental groups and some utilities.
Consumer Watchdog, a Los Angeles-based advocacy group, warned it would open up the energy market to financial speculation at a higher cost for consumers.
"This is the same bag of goods that was sold to Californians in the late 1990s, when Enron swooped in and took advantage of this speculative market," said Jaimie Court, Consumer Watchdog's president.
Several unions representing workers in the renewable energy industry said they worry the measure would create incentives to supply California's energy needs from other states, eliminating jobs locally.
The idea, which was first proposed in the 1990s and shelved during the state's energy crisis, re-emerged several years ago but has failed to clear the Legislature. It was the subject of a fierce lobbying push in the final days of the legislative session last year but never got a vote.
The Senate Energy, Utilities and Communications Committee will vote on the measure Tuesday.